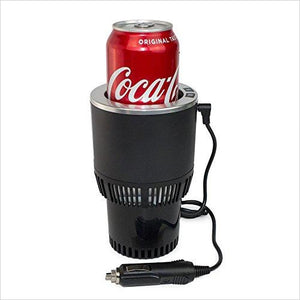 Details: Package Includes:
1 x Suped Up Cup
1 x 12V power adapter, 32" long, with red light indicator
1 x Easy Step-By-Step Guideance

Warning:
1.Caution when handling as it contains hot or cold beverages.
2.Do not touch the inside of the cup when on heat.
3.Do not use heat with bottles or cans with carbonated beverages.
4.Only use with a 12V power source.

Features:
EASY PLUG AND PLAY - Just connect directly to cigarette lighter by adapter cable when using and general base size less than 2.75 " for most cars
HEATING AND COOLING - Keep your beverage cool or coffee hot in 10 minutes. Two press buttons, red LED light for HOT mode , heats up to 140℉, blue one for COLD mode , coolest at 21℉
SAFE PPOTECTION SYSTEM - Pass the ROHS Certificate. And it will be automatic shutdown to protect the car battery when Voltage < 10.5 V
APPLICATION - Enjoy your cold beverage in summer or hot coffee in winter, whether traveling, working or outdoors
WARRANTY - 100% Customer Satisfaction Guaranteed. Free replacement with defects. All opinions are welcome for further improvements
Brand: Zuckbergs
Color: Black with Silver
Publisher: Zuckbergs
EAN: 6907224938123
Package Dimensions: 7.0 x 4.5 x 4.0 inches