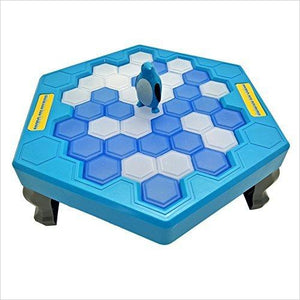 Details: Features: Package size:10*10* 2.4 Inch
Weight:11oz
Suggested number of games:2-3
Game method:
1.Insert all ice blocks into the ice tray connector.
2.The ice blocks are embedded in the ice tray, you can be placed freely because the ice shape is the same.
3.Place the penguin standing in the center ofthe ice tray.
4.Rotate the wheel and rotate the corresponding ice in accordance with the arrow.
5.Knock down the ice block according the arrow showing, when penguin drops from the ice plate, the game is over.
6.The last beater lost the game. According to the number of ice blocks knocked to determine who is the winner.
Note:
-Suitable for children over three years old
-Do NOT put the ice block into mouth

Features:
Ice-block Breaking Game,Material: High quality plastic ABS safe for child.
This is conducive to promoting the child's intellectual development and practical ability
Hand-eye coordination ability, Promoting and training children's hand flexibility.
Increase the fun of parent-child interaction easily!
Suitable for children over three years of age.
Brand: MAGGIFT
Color: Blue
Publisher: Maggift
UPC: 724190817704
EAN: 0724190817704
Package Dimensions: 9.1 x 8.0 x 2.4 inches