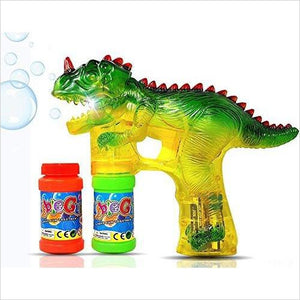 Details: Ready, aim, and fire a barrage of bubbles! Let the children have fun and help them learn something new at the same time! The Haktoys Jurassic Dinosaur Bubble Shooter is a smart and practical purchase for kids, and sprays out buckets of awesome, multi-colored bubbles to flashing lights to ensure plenty of fun!


Specifications and Features:
Product dimensions: 8.3 x 8.7 x 2.5, Package dimensions: 10.3 x 10.3 x 2.5 inches, Weight: 13 ounces.
Bubbles are safe, non-toxic, and non-staining.
Materials made in line with international health & safety standards
For ages 3+
Tips & Care Information
New version no longer comes with 'ROAR' sound.
Make sure to remove the battery protection strip underneath the battery compartment.
Bubbles will begin shooting in several seconds once you pull and hold the trigger.
Hold the bubble shooter upright as much as possible when using. Bubble solution may leak when tilted.
Lights up but does not blow bubbles? Try replacing the batteries. Use of good-quality brand-new batteries are recommended.
Before storing, remove the bubble solution and batteries from the bubble gun.
Allowing a short break during the play helps prevent motor failure due to overheating.
Adult supervision is recommended.
Additional/replacement bubble solutions can be obtained at ASIN: B00U2P3E5G or B0731QJHSY (search in Amazon search bar)
Package Contents
1 x Haktoys 1900D Jurassic Dinosaur Bubble Blower
2 x Bubble solution
3 x 1.5V AA size complimentary batteries (Included)
Why HAK Toys?
HAK Toys stands by every product it offers, and it would never offer a product that does not pass HAK Toys' strict quality measurements. This means that HAK Toys' quality is top-notch. If the product does not meet your expectations, we will make it right - guaranteed!
Features:
Fire a barrage of bubbles and have bubble fun this season - at an affordable amount! Now parent-friendly and NO more 'ROAR' sound! Child-friendly and safe, non-toxic bubbles.
Features bright and colorful LED lights and a compact, easy-to-grip handle with easily attachable bubble solution. Comes with complimentary batteries and an extra bubble refill.
Encourages active play and develops hand-eye coordination. Great for parties, weddings, celebrations, entertainment, and all indoor/outdoor activities.
Includes 1 x Haktoys 1900D Dinosaur Bubble Shooter, 2 x Bubble solutions, and 3 x 1.5V 'AA' size batteries
Note: For prolonged life of your bubble shooter, please refer to usage suggestions in the product description and on the back of the product packaging.
Brand: Haktoys
Color: Dinosaur Bubble Gun
Genre: Entertainment
Publisher: Haktoys
EAN: 8309220190037
Package Dimensions: 9.3 x 9.1 x 2.3 inches