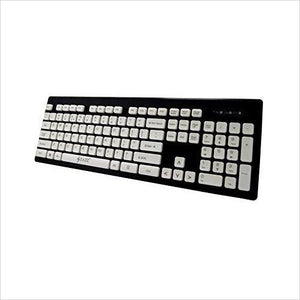 Details: ZAZZ High Performance Chocolate Keyboard has elegant looks, is Comfortable to use & is light in weight.

This Wired Chocolate/Chiclet Keyboard offers convenience in abundance.
The compact and space saving design enables the keyboard to be accommodated easily.
The Ergonomic Structure helps in typing accurately from the keyboard, thus enabling smooth working too.

The ZAZZ Chocolate Keyboard is made of high quality material that provides high durability.

The keyboard comes with Island style 104 keys, each key is well spaced from the other, thus enabling clear & comfortable typing for long hours.

Washable Spill-proof design is the Premium highlight of this keyboard.
The structure of the board is such, that each key is fitted on a base that is protruding from the board below.
So, if any liquid spills onto the keyboard, it does not enter inside the board frame, unlike other common design keyboards, the liquid would just flow down the keyboard, keeping the product safe !

Fantastic Looks: The well spaced out White Island keys set against the Black base gives it a class-apart feel & enhances the visual appeal of the keyboard tremendously.

Featured Color : White Island Keys on Black keyboard base
Features:
The ZAZZ ZKB0037 Chocolate keyboard features Soft-touch, Comfortable 104 keys with a 10 million time keystroke life, full-size F-keys and number pad. Works with Windows based PCs & Linux setups too.
Washable Spill-proof Design : Better protection from spilled liquids than most common keyboards.
Well spaced out White Island keys enhance the visual appeal of the keyboard, also giving it a class-apart comfortable feel.
Comfort Usage : Low-profile keys give you a quiet, comfortable typing experience. Sleek and Sturdy Design. Easy-to-read keys with bold, bright characters enables smooth day to day usage. Simply plug into the USB ports and play !
Durable ABS Plastic material enhances the life of the product. High Quality Laser printing enables rich view of each key individually.
Brand: ZAZZ
Color: White Keyboard
Operating System: linux
Publisher: ZAZZ
Package Dimensions: 17.0 x 6.0 x 2.0 inches