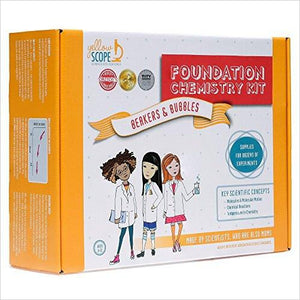 Details: Get ready for hours of fun by the beaker! Yellow Scope science kits are different - they take girls seriously. Mix, pour, bubble, create. With loads of supplies and girls' imaginations, there's no limit to what they can discover! Our award-winning chemistry kit is designed to engage the scientific and creative minds of 8-12 year old girls. The lab notebook outlines instructions for 19+ exciting hands-on experiments. Plus, there are plenty of reagents for girls to design their very own experiments! This kit includes: 28 page lab notebook, safety goggles, 3 beakers, thermometer, timer, stir stick, candle, citric acid, sodium bicarbonate, colored dyes, colored tablets, chalk cloth, chalk, colored pencils & pencil sharpener, "THINK LIKE A GIRL" pencil and collectible chemistry pin.

Yellow Scope was founded in 2014 by scientists and moms, Marcie Colledge and Kelly McCollum. Marcie and Kelly met in 2008 at their children's elementary school as volunteers running the school's STEM programs, including Family Science Nights and the Science Fair. Their "aha moment" was realizing how well they work together and how passionate they both are about science, girls, and education. Over the years, this grew into an idea to build a company that would help young girls fall in love with and build confidence around science. Thus Yellow Scope was born! At Yellow Scope, we make rigorous, creative (and fun!) science kits for girls. Each kit is lovingly assembled by hand in Portland, Oregon.
Features:
LEARN THE BASICS - The 28-page lab notebook teaches 8-12 year olds about key scientific concepts: chemical reactions, molecular motion, and the effect of temperature.
AWARD-WINNING - This kit has won a Parents' Choice Gold Award, a Dr. Toy Best Educational Toys Award, and was 2016 Finalist for Toy of the Year.
19+ EXPERIMENTS - The detailed lab notebook outlines 19+ colorful and surprising experiments on chemical reactions, molecular motion and temperature. It also includes fun facts, quizzes and lots of room for kids to doodle, design and create their own experiments.
FUN & EDUCATIONAL - The kit contains real lab equipment, including 3 beakers, a high temperature thermometer, a digital timer, colored safety goggles, a chalkboard lab mat and loads of chemical reagents for hours and hours of experimental fun.
STEM GIFT - This kit provides hours of engaging and fun scientific learning, making it a great STEM (Science, Technology, Engineering and Math) and STEAM (STEM + Art) gift that will get girls excited about science and help build confidence.
Brand: Yellow Scope
Legal Disclaimer: This kit contains chemicals that may be harmful if misused. The kit is for use by children 8 years and older under the strict supervision of adults who have carefully studied the precautions on individual packages in the lab notebook. Keep packaging as it contains important information. Warning: Choking hazard - small parts. Not for children under 3 years. Use with adult supervision only. Meets all Consumer Product Safety Commission rules for children's products.
Publisher: Yellow Scope
UPC: 869867000000
EAN: 0069682262045
Package Dimensions: 14.3 x 10.8 x 4.1 inches