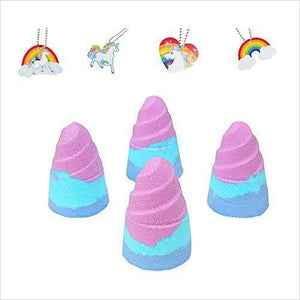 Details:

The Perfect Gift Set That will WOW Any Unicorn Lover! Let's face it! Unicorn Gifts are extinct! Now that you found this Mystical Magical bath bomb grab it now to unfold majestic wonder. Buy our Bath Bomb Gift set Now to experience a spa like experience in the comfort of your home!

Each Bath fizzy is unique and will turn your bath water into a beautiful shade of blue or purple.

Scented in top note of fresh lime, pineapple and raspberry with a creamy base of vanilla. A perfect blend of rainbows and unicorn fart.

Natural Ingredients - Our bath bombs are made of sodium bicarbonate, citric acid, fragrance oils, cream of tartar, kaolin clay and colorants.

Great Value : Not one, but four unique handcrafted unicorn horns.

Cruelty Free- Never Tested on Animals, 100% Vegan Safe Synthetics SLS Free

We only use biodegradable glitter in our products
Features:
Our Bath Bombs are formulated to be colorful,Fizzing, Foaming ( Organic Coconut Milk Powder), Moisturizing & Natural
Packaged in a white giftable box - Ready for gifting.
Great quality. We use the best quality of natural and safe ingredients to create a product that you or your love ones will trust, love and enjoy.
These make perfect gifts! Birthdays, Parties, Kids, Teens, Women, Moms, Unicorn Lovers, Party Favors & Party Supplies, Gift Sets,
Scented in a perfect blend of unicorn fart ( Rainbow sherbet) a fruity blend of fragrance oils to entice all Unicorn & Rainbow Lovers.
Brand: Charlene New York
Publisher: Charlene New York LLC
UPC: 767337120732
EAN: 0767337120732
Package Dimensions: 5.3 x 5.1 x 3.2 inches