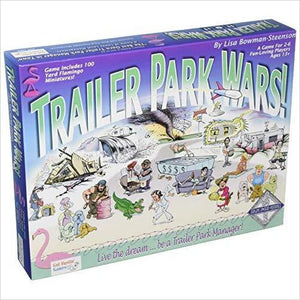 Details: You have finally landed the job of your dreams, Trailer Park Manager. To be the best darn trailer park manager in town you must place quality tenants in your trailers, create a fun and friendly atmosphere by adding some sweet amenities, and go about destroying the other trailer parks in town, no matter what it takes.
Features:
For 2-6 Players
Playing time about an hour
Includes 100 pink yard Flamingo miniatures
Hilarious and fun to play
A game of lower level management
Brand: Gut Bustin' Games
Color: Multi-colored
Legal Disclaimer: Small pieces not to be around small children. Some dirty words.
Publisher: Gut Bustin' Games
UPC: 793631314027
EAN: 0099057962898
Package Dimensions: 12.4 x 9.4 x 2.0 inches
Languages: English