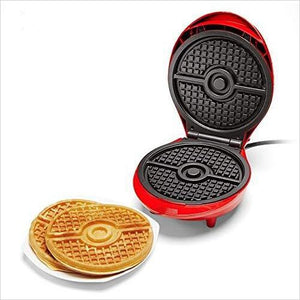 Details: The secret of the Death Star was that it looked like one thing, but it was technically another. It looked like a moon hanging there in space, but we know that secretly it was actually a space station. Waffles are a lot like that, too. They look like dessert, all covered with strawberries and whipped cream and chocolate chips and powdered sugar and syrup (well, maybe not all of those at once), but they're technically breakfast. Booyah. If you're ready to make your kitchen explode with awesome, you need a Death Star Waffle Maker. Plug it in, warm it up, and pour the batter onto the non-stick cooking plates. In just minutes, you'll have golden, delicious waffles, good enough to destroy a planet for. Well, a small one, at least. And if one side turns out a little funny with bubbles or you overcook it and there's a Dark Side, just flip it over. There's a Concave Dish Composite Beam Superlaser indentation on both cooking plates, so you're covered. And both sides have pockets for your tasty toppings. Just keep in mind when you break out the syrup that it's likely to do its own version of the trench run. Honestly, there's no need to waffle. You know you want it.
Features:
COME TO THE DARK SIDE; WE HAVE WAFFLES - The Death Star lets you create evil waffles for your breakfast, or anytime that you crave them.
7-INCH ROUND WAFFLE - This waffle maker produces a 7-inch diameter round waffle with two sections.
INNOVATIVE DESIGN - Non-stick cooking plates duplicate the design on both sides. Indicators light up when iron is on and when it is at correct temperature.
DIMENSIONS - 8" deep x 10" wide x 4" tall
MADE BY A TRUSTED BRAND - The Star Wars Death Star Waffle Maker is officially-licensed Star Wars merchandise. It is a ThinkGeek creation and exclusive.
Brand: ThinkGeek
Color: White
Publisher: Think Geek
UPC: 847509008362
EAN: 0847509008362
Package Dimensions: 11.7 x 9.8 x 6.1 inches