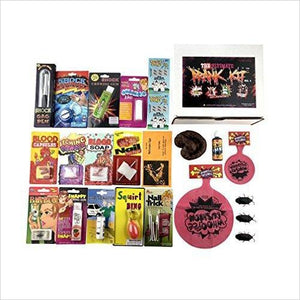 Details: Each Ultimate Prank Kit comes with the following:(1) RATTLE SNAKE EGGS -A loud sound as you open this will startle anyone!(1) NAIL THROUGH FINGER -Slip this on your finger and watch everyone panic(1) DISAPPEARING INK -Squirt this on a shirt, watch it disappear in minutes(1) SQUIRT RING -Fill with water and squirt your friend when you show them your brand new ring(2) FAKE LOTTO TICKETS -Looks like a ordinary scratch ticket that you buy except every ticket is a winner, designs will vary(1) SHOCK PEN -Next time someone asks to borrow a pen, pass them this one for a shocking surprise(1) FAKE DOG POOP- Place this realistic poop anywhere to get a funny reaction (1) 3" WHOOPEE CUSHION- Makes fart noises (1) CAR SCRATCH -Stick this sticker on a friend's car and they will think their car has been keyed(1) SHOCK GUM -Tired of people asking you for a piece of gum, problem solved, this will give them a harmless shock, colors will vary(1) ITCHING POWDER -Sprinkle a little bit down your victim's back and watch them roll around(1) TRICK NAIL -This can make almost any surface look like you have hammered a large nail through it(1) BLOOD CAPSULES -Simply pop of one of these capsules in your mouth,crunch it,and people will think real blood is gushing from your mouth!(4 per pk)(1) BLOODY FACE SOAP -Sprinkle some on a soap and your victim will get redder the more they wash(1) GELLING JOKE -Turns almost any liquid in instant slush(3) FAKE COCKROACH- Made of rubber and scary(1) BUG IN ICE -Place this in a drink to get a disgusting scare(1) 6 inch WHOOPEE CUSHION -Makes fart noises(1) SHOCK HAND BUZZER -Like the traditional hand buzzer, but better and more startling,comes in assorted colors, packaging will vary (1) SNAP GUM- Like a mouse trap for people. Warning CHOKING HAZARD-Small parts,Not for children under 3 years.
Features:
The Ultimate Prank Kit NO 1. just got even better!!
Giving this as a gift could be a highlight of any party or holiday break!
Loaded with lots of classics and also exciting new pranks that will cause tons of laughs!
Making this truly the Ultimate Prank Kit for any prankster!
READ BELOW FOR PRODUCT DESCRIPTION!
Brand: Jereco Global
Publisher: Jereco Global
UPC: 859938003009
EAN: 0793631031467
Package Dimensions: 8.6 x 7.3 x 3.3 inches
Languages: English