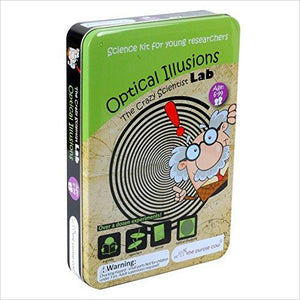 Details: About: the crazy scientist optical illusions experiment kit opens up a world of questions your kids might have and gives you the right tools to answer them. Set up your own experiments or follow the step by step instructions and discover what makes light refract or what' s an illusion anyway? Welcome to a world of exploration and discovery! The Purple Cow the crazy scientist lab optical illusions experiment kit expose children to science and an understanding of the world around us Through practical and simple science tricks and experiments using all the provided equipment in addition to basic household supplies. This kit helps kids with their understanding of STEM/ steam through hands-on experiments. Optical illusions: over a dozen mind-blowing experiments some of which include the hidden piggy bank, light reflection, double meaning illusions, and many more unique thinking experiments! As we observe at the world around us, our eyes collect information that our brain interprets. But are we really seeing reality as it is? As you will see through these experiments, sometimes our brain interprets reality In a wrong way. To put it simply: seeing is not always believing! In this kit we will explore different types of fascinating optical illusions including double meaning illusions - is it a face or a vase? Movement illusions - is the picture moving? Distorting illusions - is this really a straight line? You will build a magical piggy bank that will make your money disappear, explore color illusions with special DIY spinners. These are just a few of many exciting experiments inside. What' s inside? The crazy scientist lab optical illusions experiment kit contains a detailed guide to the experiments and comes equipped with the necessary equipment excluding some common household items. It includes a clear guide accompanied with photos of the processes as well as fascinating scientific explanations & facts. Whether used individually or for group teaching, the crazy scientist lab science kits for young researchers are perfect for homeschooling or as classroom aids and are ideal for STEM/ steam enrichment activities. The Purple Cow crazy science set for kids help children learn how to formulate theories, ask the right questions, experiment and analyze results. It' s a great way to enter the world of STEM/ steam through an easy to follow set of experiments. Challenge your kids and help them make fascinating discoveries using the magic of science. It is a great science learning kit which can be used at home, school, on the go, and at parties… these science experiments for kids are sure to keep them engaged with hours of learning and engaging STEM/ steam activities. As a scientific, educational learning kit for kids, Each package has instructions and images to explain the task. Each experiment is designed to help kids learn about the world around us by questioning and research. Experiments are conducted either by themselves or with parental supervision. Try all of the experiments or progress bit by bit, come back when you feel ready for a challenge...The learning can never really stop! Whether you do it by yourself or with your friends, parents or teachers, there' s so much you can learn by playing with the crazy scientist lab. The crazy scientist tries to make sure the education delivered to kids is engaging, fun and easily accessible because we all know how easily distracted they are these days… the timing of each experiment depends on the child' s level of comprehension and ability. Some experiments may take seconds While others could take several hours or even days. The crazy scientist is an ideal kid science learning kit for homeschooling, as a classroom aid or for STEM/ steam learning and experiments. The experiments are cleverly designed to be fun, engaging and simple. No need for TV, computers or cell phones. This scientific experiments' toolkit has you covered for hours of learning, experimenting, and tricks. Get ready to answer some fun questions! This science learning set also makes a great gift. Whether it's for Christmas, New Years, Halloween or just any day in between. Give the gift of science and research to the young boys and girls in your life and watch them grow with new knowledge. Recommended age for these kits is 6-12, although we' ve seen many parents get very involved in the process and love it as much as their children! About us: The Purple Cow was founded in Australia. We are game designers, developers, and manufacturers. These days Our Company operates with two headquarters in MD, USA and caesarea, Israel. Our central warehouse is based in Maryland and we are shipping games to over 40 countries worldwide. As a family business, we want our kids to grow with exposure to science and these hands-on experiments do just that. It's not an easy task to grab the attention of this generation. To meet this end, We strive to create educational content that will be fun and creative and fascinating.. We use distinct designs which we create with our in-house artist, Inna Semadar. We try to mix up a variety of materials and strive to deliver value on a budget. We thank you for your continuous support and promise to continue to innovate and excite. Bring home the fun and learning experience of The Purple Cow and let us know how it goes with your kids! We' D love to hear from you.
Features:
Optical illusions STEM education kit: The crazy scientist experiments help your kids learn and engage with learning about optical illusions and how they are created. The kit includes a plethora of science experiments for kids that are engaging and simple to understand.
Experiment and learn: introduce kids into the world of STEM/ steam research and analytical thinking through a series of fun kids science tricks all revolving around optical illusions.
Science kit for home, school or parties: The crazy scientist lab series of science projects for kids help kids think through problems, find solutions and analyze results. Use these kits as learning aids or for experiments at home or at school or as educational engagement at parties. Engage in hours of creativity and scientific exploration.
Learning made fun: the experiments will illuminate kids on how various optical illusions are created and how they can influence our perception and thoughts of the world around us.
Challenging and engaging: challenge your kid's mind and give them the magic of discovering new things through experimentation and engagement.
For the whole family: kids science projects can be fun and engaging for the entire family. Each kit comes with instructions and simple yet clever scientific explanations. Some experiments may need to be supervised by older children or adults.
Professionally designed: each science experiment is professionally designed to increase kids' knowledge and learning of experimenting and developing new ideas.
Kit contains all the necessary supplies excluding some common household items, easy step by step instructions with pictures and explanations of the Science experiments.
Brand: The Purple Cow
Color: Optical Illusions
Publisher: Purple Cow America, Inc.
Warranty: No Warranty
EAN: 7290016026207
Release Date: 2018-11-07
Package Dimensions: 10.1 x 6.8 x 1.7 inches
Languages: English