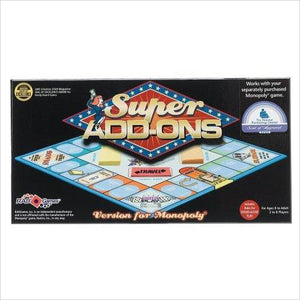 Brand: Rad Games
Features:
12 New Property Deeds and 2 New Utilities
20 New Action Cards
20 Travel Cards and 20 ROLL THREE Casrd
PLUS: 17 New Houses, 7 New Hotels, and 1 Die
Storage Tray for all your Super Add-ons and Monopoly game pieces
Publisher: RAD Games
Details: Teach your old game new tricks! Just place new Super Add-ons Version for monopoly game board inside an original or themed Monopoly board and experience a whole new level of gaming excitement! - Take the Elevator between boards! -Ride the subway to the space of your choice! - Advance to Roll Three and win cash! With all new properties, utilities, travel cards, and ways to accumulate wealth, SUPER ADD-ONS brings a brand new dimension of fun and excitement to the original Monopoly game. Easy to understand instructions and faster game play make it suitable for the whole family!
UPC: 689076938327
EAN: 0689076938327