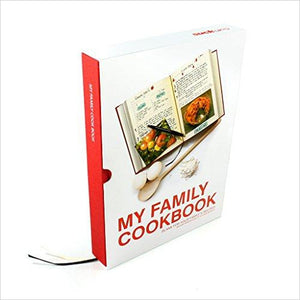 Details: Suck UK's My Family Cookbook notebook - the perfect recipe builder for all those favourite meals!
Archive generations of kitchen secrets and keep your recipes in the family! Home cooked is always better, espcially when it's Mum's amazing Sunday roasts or Nan's awesome chocolate fudge cake! Every family or individual has special recipes that give that instant feeling of nostaglia and happiness.
The My Family Cookbook allows you to write down all the required ingredients and method, with space to personalise with photos and gather comments from the taste testers!
The pages of this notebook come in template form with space for over 80 recipes, with an introduction with useful cooking guides and tips, and a handy conversion table!
The My Family Cookbook notebook is a perfect gift for any budding chef or recipe building extraordinaire!
Also available in red.
Features:
Template pages with space for over 80 recipes, an introduction with useful cooking guides, tips, tables and more.
Archive generations of kitchen secrets and keep your favourite recipes in the family. Home-cooked is always better
Create your own recipe book: Write down the required ingredients and method, personalise with photos and share your secret recipes with the rest of the family
Gift for all occasions, especially the chef in your family
Includes conversion table, section to write recipes, photo gallery and family reviews
Brand: Suck UK
Color: Red
ISBN: 5060043064655
Publisher: Suck UK - Office Products
Warranty: Standard
UPC: 599039429406
EAN: 0599039429406
Release Date: 2013-10-21
Package Dimensions: 9.0 x 6.5 x 1.7 inches
Languages: Italian, German, French, English, Spanish