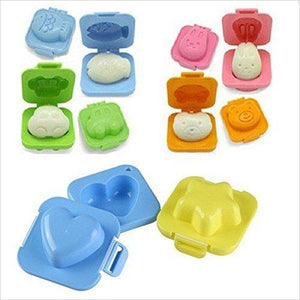 Details:
These cartoon molds are so cute, they will make your dessert be more dedicated and delicious .Take them home. -------------
How to use?
Egg Sushi Rice Decorating Mold:
A. Sushi Rice
1. Put the inner case to the outer case.
2. Fill the inner case with Sushi rice and press it firmly.
3. Put the cover to the case and press it firmly.
4. Push inner case out from back as shown on the picture.
5. Open the inner case and get Sushi Rice Roll.
B. Creative Egg
1. Peel a boiled egg (the one that lager than inner size of the mold is better) while it is still hot. Put it in the mold and close the cap slowly and tightly.
2. Prepare some cold water and put the mold in for about 10 minutes.
3. Open the cap and take out the egg.
Rice Ball Mold:
1. Now sweep a layer of water on the mold and then add hot rice. The amount is the same as the mold. ( quickly shake it up and down will be ok, please take reference with the description picture, thanks )
2. Cover the lid and hold the handle and shake it more than a dozen times.
3. Open the mold and a small rice ball is formed.
-------------------
Package include:
6 x Sushi Boil Egg Molds
1x rice scoop
1x rice ball mold
--------------------
Shipping: Please make sure your shipping address is current and correct when you order, ZIP CODE matters also.
Please Note: Colors will be shipped at random.
Features:
Egg Sushi Rice Mold Mould with Rice Ball Mold + Rice Scoop
6 PCS Egg Sushi Rice mold include Star, Heart, Fish, Car, Bear & Rabbit
Fresh, healthy, delicious & nutritious sushi, the easy way to make professional sushi in your own home
Material: food grade Polypropylene (PP), Egg Sushi Rice mold Dimension: 7(L) x 7(W) x 4.5(H) cm; Ric Ball Mold Dimension: 2.60x7.09x1.30inch
The mold is easy to be used and cleared. Take it to decorate your sweet cooking for your family, they will love it
Brand: SQDeal
Color: blue.yellow,orange,pink,green
Publisher: SQdeal
UPC: 781147403144
EAN: 0700220798793
Package Dimensions: 13.5 x 6.8 x 2.0 inches