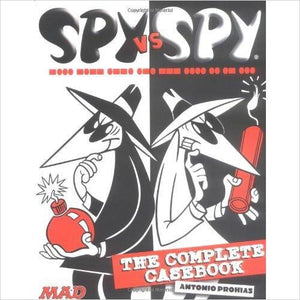 Details: In the grand tradition of Krazy Kat & Ignatz Mouse and the Road Runner & Wile E. Coyote, the Spies (one dressed in black, the other in white) are an endless variation on a Cold War theme—forever one-upping the other, til death do they part. This diabolical duo of double-cross and deceit are, as Art Spiegelman described them in The New York Times Magazine, "the comic strip equivalent of the yin-and-yang symbol, good and evil, interdependent and interchangeable,...forever chasing each other's tails."

2001 marks the 40th anniversary of Spy vs. Spy, which made its first appearance in MAD #60, January 1961. The feature has run in virtually every issue since with nearly 1000 installments. Spy vs. Spy: The Complete Casebook chronicles the creation and history of the Spies and features all 247 of the strips written and illustrated by its illustrious creator, Antonio Prohias.

Delighted fans will discover a virtual treasure trove of fun-loving Spy vs. Spy material. Here for the first time are unpublished and never-before-seen preliminary sketches and artist roughs, photographs from his family scrapbooks, and rare political cartoons. Also included are eight biographical and historical essays, each detailing a different aspect and perspective on the Spies and their creator. A special color section reproduces dozens of Spy collectibles from over the years, including paperbacks, Super Specials, computer games, trading cards, and much more.
Author: Antonio Prohias
Brand: WATSON-GUPTILL
Features:
Used Book in Good Condition
ISBN: 0823050211
Number Of Pages: 304
Publisher: Watson-Guptill
Release Date: 2001-09-01
UPC: 648797050213
EAN: 9780823050215