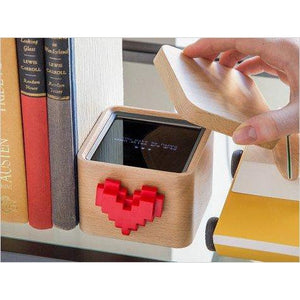 Send love notes, a quick message, or a daily hello through this charming wooden digital box. Inside, a digital screen displays messages sent to you through the app from up to 20 friends and family members. The pixelated heart spins to let you know a sweet surprise is waiting under the lid. Give it a spin back to let the sender know how much you appreciate their kind words.
Materials: Resin, glass, metal, electronics, beech wood
Care: For indoor use only, do not expose to water or heat
Includes: One LoveBox, one red pixel heart, micro-USB cable, power adapter plug (5V 1A), and user guide
Heart spins to alert when message is received
Up to 20 people can send messages to the box
App sends messages up to 168 characters and features select drawings to include in messages
LoveBox App is compatible with iPhone, iPad, and iPod touch: Requires iOS 9.0 or later. Android: Devices equipped with Android 4.1 and up
Please note: WiFi connection required. Compatible with a dual band WiFi network or standard 2.4Ghz home WiFi. See

 

user guide here

 

for more information
Made in France
Dimensions: 3.54" x 3.54" x 3.54"
Weight: 1.1 lbs.