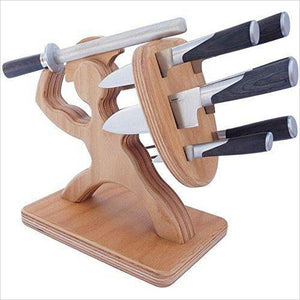 Details: You may never be able to enjoy the CGI six-pack abs of the heroes in 300, but you can darn sure have the same kitchen cutlery as we're sure they had.
This instant conversation starter for any man cave or apartment kitchen is crafted from locally grown and ecologically sustainable solid maple (Spartan) and walnut (Shield) wood into the shape of a Spartan soldier.
This is a BYOK - Bring Your Own Knives (as in, knives aren't included).
Missing Digit Woodshop is an American Made company founded in a little town just west of Atlanta, Georgia. Nestled between other industry buildings, the team at Missing Digit Woodshop brings modern design into the age old craft of fine woodworking. From the finest timbers of North America, Missing Digit Woodshop is known to craft kitchen and home products with anything-but-traditional style. It is this style that took Missing Digit Woodshop to the front pages of Gizmodo, Huffington Post and other large media organizations. Even with that success Missing Digit Woodshop still remains a small American company committed to each customer's orders with skilled craftsmen at the helm.
Features:
The Most Amazing Knife Block Ever - Instant Conversation Starter
Knives NOT included.
Handmade in the USA by skilled craftsmen.
Made with premium laminated birch and refined until silky smooth.
Food safe finish that really makes your Spartan Knife Block stand out.
Brand: Missing Digit Woodshop
Color: Wood
Legal Disclaimer: Novelty Item. Knifes are unshielded and may cause injury if used improperly. Keep away from children.
Package Dimensions: 13.4 x 12.5 x 6.5 inches