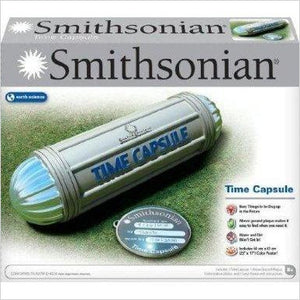 Details: The Smithsonian Time Capsule gives children the chance to save memories and send them through time.
Features:
The Smithsonian Time Capsule is the perfect way to ensure that today's memories last well into the future.
Includes an above ground plaque that stays attached with a string to the time capsule down below.
A large color poster features interesting information about the scientific value of time capsules and relates it to many of the archaeological discoveries humans have made throughout the years.
When trying to decide what artifacts to place in the Smithsonian Time Capsule, kids should think about objects that are fair representations of who they are right now and what the world is like right now.
Message cards are also included, so kids can even write a note to their future selves and maybe make some predictions of what the world and he or she will be like in the future.
Brand: Smithsonian
Publisher: Smithsonian
UPC: 042409523100
EAN: 0042409523100
Package Dimensions: 14.9 x 12.3 x 4.2 inches