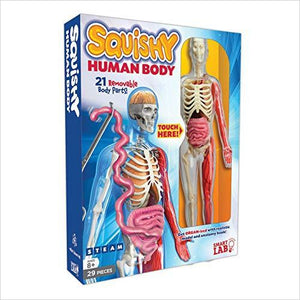 Details:
With this hands-on kit and tour guide, kids enter the twisted world of the human body! Complete with removable squishy vital organs as well as representative skeletal, vascular and muscular systems, kids explore the complex inner workings of the human body and literally see how they all go together!
Includes: 12-inch plastic human body model
nine removable squishy vital organs
skeletal, vascular and muscular systems
forceps and tweezers
tray to organize your organs
23-page fully illustrated book

Features:
Includes 12" Human body model with stand!
Use the Forceps and tweezers to remove the squishy organs.
Comes with a 24-page illustrated anatomy book that follows a piece of pizza as it travels through the systems of the human body.
Discover how the human body works with this realistic anatomical model.
Stem focus: anatomy and biology
Ages 8 and up
Look inside the book Watch what happens as a bite of pizza travels through your body
Take a tour of the human body from the inside out
Each SmartLab package contains everything kids need to explore and understand the mysteries of science
More than just a toy and book, SmartLab products satisfy and engage a child's curiosity
Science becomes an adventure
Brand: SmartLab Toys
Color: Multicolor
ISBN: 1932855785
Edition: Box Pck
Author: M.D. Lucille M. Kayes
Legal Disclaimer: CHOKING HAZARD! NOT INTENDED FOR SMALL CHILDREN!
Number Of Pages: 32
Platform: Windows 7
Publisher: Smart Lab
Warranty: N
UPC: 834509000540
EAN: 0834509000540
Release Date: 2009-04-15
Package Dimensions: 13.0 x 10.0 x 2.8 inches
Languages: English