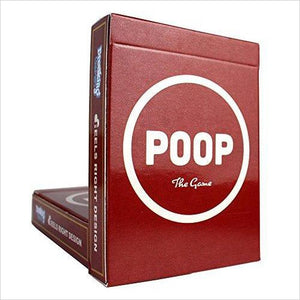 Details: POOP: The Game (2-5 Players | 15 Minutes | Ages 6+) POOP is a game where the first player to run out of cards wins! Take turns pooping but don't clog the toilet! Some cards make players perform crazy acts. POOP is playable with up to 10 players when combined with the PARTY POOPER Edition.
Features:
A family-friendly card game for all ages!
Take turns pooping, but don't clog the toilet!
The most enjoyable experience you'll have outside of the bathroom!
100% Fiber
THE ORIGINAL POOP GAME!
Brand: Breaking Games
Color: Red
Edition: First Edition
Publisher: Breaking Games
UPC: 793631016129
EAN: 0793631016129
Package Dimensions: 3.6 x 2.6 x 0.8 inches