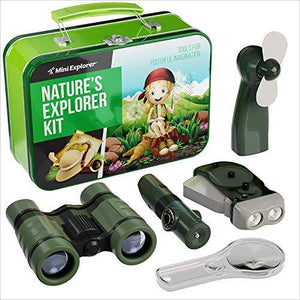 Details: Do you love to keep your children cooped up indoors, hopelessly staring into harmful screens all day long, 7 days a week? Do you wish they'd stay locked in their rooms, never to return? Of course you don't. You'd love to get the little ones outside, exploring the magical land that nature has to offer, right? If so, this marvelous Junior Explorer Kit contains the exact set of educational tools they need to make learning fun again. This marvelous kit contains binoculars, a flashlight, a magnifying glass, a whistle, and a beautifully designed real-working lensatic compass; all of which are guaranteed to provide a wonderful experience for you and your child. 6 gadgets and gizmos that are specifically designed to optimize your experience as soon as you take them out of the box. Here at Mini Explore, we know that just because your adventurer is small doesn't mean the adventures should be. We also pride ourselves on providing you and your family with premium quality toys that prove to be rewarding and educational. Our entire line with modeled with the intent to spark a lifelong passion for knowledge and self-education. You know how important knowledge is, and we're here to prove that it doesn't have to be boring. With us, you can provide your kid premium rewarding education that they're actually excited to acquire.
Features:
🎁 A MAGICAL 9-IN-1 EDUCATIONAL GIFT SET WITH BEAUTIFUL CASE: If you're looking for the perfect gift for that young child that loves to play outdoors and explore nature, this is precisely the set for you! Its exciting packaging, useful tools, and unique & practical case will instantly motivate them to sprint outdoors and explore everything nature has to offer. Each tool comes in its own beautiful box, multiplying the joy.
🔍 QUALITY CASE FOR CARRYING AND STORING: Keep all the tools in one neat place, and the child will love it too! Carry and store all the tools in the unique case that opens easily and closes tightly with the lock mechanism. See the excitement in their eyes as they receive this beautifully packaged 9-in-1 explorer gift set with its brightly colored tools.
🦏 BINOCULARS (4x30mm): Perfect for bird watching, exploring nature or spying on faraway animals. Made from quality shockproof rubber for extra comfort and includes rubber eye-protection & neck strap for easy carrying. 🔍 MAGNIFYING GLASS: Study insects closely with the pocket-sized magnifying glass.
🔦 SELF ENERGIZING FLASHLIGHT: Don't run out of light ever when camping, traveling, or hiking. The flashlight recharges itself each time you crank its handle without the need for batteries, ensuring you a lifetime of light even in the farthest places. And in the process learning about how energy is created. 💨 HANDHELD FAN: Cool off on hot summer days with the battery-operated handheld fan with safe soft wings (batteries included).
🔧 MULTI-TOOL (with 5 functions): 📍 COMPASS: Perfect for learning basic directions and how to read maps. 🌡️THERMOMETER: Also learn about Celsius & Fahrenheit with the included guide. 🔔 WHISTLE: Have fun playing outdoor games. 🔦 INSTANT FLASHLIGHT: For that moment that you need a quick light. 🔍 MAGNIFYING GLASS: An additional specialized magnifying glass. 😊 We offer a 100% money-back guarantee, and if you're unhappy, we'll make sure to make it right.
Brand: Mini Explorer
Color: Explorer Kit
Publisher: Mini Explorer
EAN: 4943823155228
Package Dimensions: 7.7 x 6.0 x 3.2 inches
Languages: English