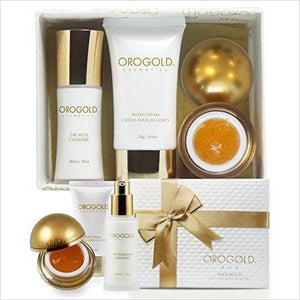 Details:
The OROGOLD skincare box has been put together with great care for all the fabulous women out there, who juggle various roles and don multiple hats. This luxury sample box contains 3 of the most luxurious products to have you looking your best and because we care, it comes to you at a very special price.
Coz Nothing But the Best Would Do.
Product Benefits
• 24K Milk Cleanser loaded with the goodness of natural ingredients like Jojoba Oil, Musk Oil and Milk, all containing important vitamins and minerals to work wonders on your skin. Leaves it feeling moisturized and refreshed. Reduces skin disorders leaving your skin satiny soft and definitely asking for more.
• 24K Deep Peeling Gel is created with skin friendly ingredients that gently remove dead skin cells, reduce dark spots and improve skin texture. The peeling gel leaves your skin glowing with vitality and vibrancy.
• 24K Body Cream is enriched with oils and minerals that moisturise skin. It prevents flaking and dullness and improves skin elasticity. Regular use of 24K Body Cream builds moisture levels and firmness, fights skin damage and protects new skin.
You don't really want to miss these luxury gifts for women. Order Now before stocks run out.
Features:
GOODNESS OF GOLD - 24K gold helps brighten your complexion and leave you with a luscious look and feel. And there's always something special about using gold on your face. Cleopatra did it, why shouldn't you?
FIRST STEP TO GREAT SKIN - Nothing compares to great looking skin, and the specially selected products in OROGOLD's skin care starter kit will set the course for good looking skin everyday, everywhere.
LUXURY WITH AFFORDABILITY - We believe that every mother needs luxurious pampering every now and then. A great reason not to miss this pamper kit for women- This 24k gold facial kit takes you into the realm of luxury without hurting your wallet.
A BEAUTIFUL GLOWING YOU - The amazing combination of essential minerals in this sample box for women protects skin from harmful radicals, replenishes and nourishes skin while the presence of Gold leaves it sparkling with a youthful luster.
SPA IN YOUR BAG - Reap the benefits of a spa at your comfort. These gift sets for mom are lightweight, non greasy and can fit into your handbag and carry-on. No matter where you go, travel in style and let your skin make a statement.
Brand: Orogold
Publisher: Orogold
UPC: 088057036661
EAN: 0088057036661
Package Dimensions: 6.7 x 5.5 x 2.3 inches