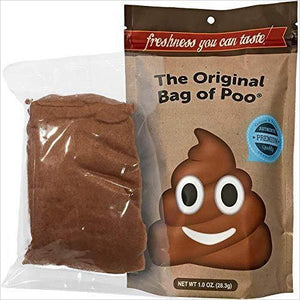 Details: THE ORIGINAL BAG OF POO! This is a one-of-a-kind gag gift that you can actually eat right out of the bag. Who has ever seen brown poop (cotton candy) that you can actually eat? Great fun at any party. Send this anonymously for that someone who needs a little...poo! REMEMBER, to have some laughs and some for at the parties with a gag gift that everyone will love. PERFECT, for those stocking stuffers, white elephant gifts and those silly birthday parties at any age for kids or adults.
Features:
THE PERFECT POOP GAG GIFT FOR ANYONE WHO NEEDS A LITTLE POO! Great for a silly prank or just weird stuff that is funny. Yum, get some! Have fun, give some silly poop pranks too!
TRY ALL OF THE ORIGINAL BAG OF POO PRODUCTS: Unicorn Poo, Sasquatch Poo, Dinosaur Poo and Mermaid Poo! The poop kids love to eat!
FREE SHIPPING with NO minimum purchase!--It is a novelty candy so NO sales tax to most buyers!
BROWN (FAKE POOP) COTTON CANDY--Black Cherry Flavored. Don't forget to give as the perfect White Elephant Gift or that perfect stocking stuffer for kids, women or men. Surprise them on their Birthday!
GET A FUN FREE HIGH QUALITY VINYL POOP EMOJI STICKER INSIDE!-- This product is 100% made in the USA.
Brand: The Original Bag of Poo
Color: Brown
Publisher: Dealquest LLC
UPC: 869195000307
EAN: 0869195000307
Package Dimensions: 8.2 x 5.0 x 3.1 inches