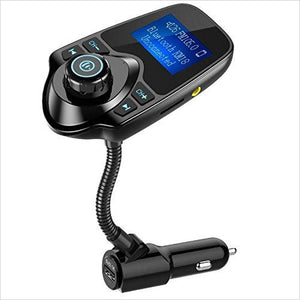 Details: Nulaxy KM18 is the best selling FM Transmitter on the market, has been consolidated by uniting quality and high technology.
The functions that our KM18 adds to your car without any type of installation and wires is incredible. With our device you bring your classic car to a new generation without change its style or damage the originality of your car.

Add in Your Car:
1) Answer calls phones safely and with one click;
2) Listen to music from your phone, MP3 player, tablet , laptop, tf card and connected devices via aux cable in the sound of your car;
3) Control the quality of your car battery with our voltmeter function;
4) Charge your devices through the secure USB port;
5) LCD screen with ideal size to view your telephone calls, music, car battery voltage and other information with more comfort and quality.

Add all these functions with just one device is not amazing?
Bring your car to new generation in a simple and safe way!
Nulaxy, driving you safer and better.

Kindly Reminder:
Recently lots of customers are complaining that they purchased cheap knockoffs and could not register warranty with Nulaxy. Please be noted Nulaxy Direct is the only official and authorized store for Nulaxy KM18. If you purchased from other store, you can report to Nulaxy and Amazon for being counterfeited.

Features:
1. THE BEST: Consolidated for customers the best FM Transmitter on the market the Nulaxy KM18 won the market for its superior quality and reliability. [Nulaxy Direct] is the only store to purchase authorized and authentic Nulaxy KM18
2. GREAT ADVANTAGES: Compatible with most devices on the market. Play your favorite songs on your car stereo through Bluetooth, TF Card, Aux Cable. Advanced noise reduction technology will ensure quality, crystal clear sound.
3. BIG LCD DISPLAY: 1. 44 inch screen to better visualize phone calls, music, car battery voltage. The ideal screen size to assist you in driving safe without disturbance.
4. TECHNOLOGY IN YOUR CAR: 1) Bluetooth connection; 2) Answer phone calls with the press of a button; 3) Voltmeter function to monitor the quality of your car battery; 4) 3 different ways to play music in your car, and more.
5. SAFETY FUNCTIONS: Safety first. KM18 is equipped with a voltmeter to show you the condition of your car battery. Voltage should be between 13. 2V to 14. 7V when your car is on and moving. 12. 2V to 12. 8V when your car is parked and ignition is off.
Brand: Nulaxy
Color: Black
Media Type: SD Card
Publisher: Nulaxy
Warranty: 18-Month Manufacture Replace Warranty
UPC: 712201002645
EAN: 0712201002645
Release Date: 2018-06-01
Package Dimensions: 5.6 x 4.3 x 2.3 inches