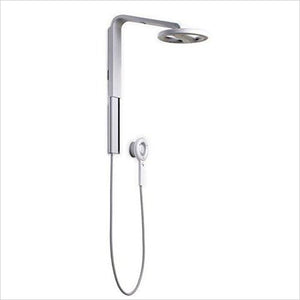 Details: The key to a great shower experience is how much water comes into contact with your skin. Based on aerospace technology, the Nebia Spa Shower breaks down streams of water into millions of droplets. The droplets are released in precise patterns to envelop your body like a cocoon, making less water feel like so much more. 10x more water comes into contact with your skin while using 70% less water (0.7gpm). The experience is unlike any other, blending the best of a steam room and a traditional shower. Nebia can be installed in under 20 minutes without plumbers or broken tiles. Designed and built in the USA. D&AD Impact Award - Sustainability Impact, Clio Silver Award - Product Design, D&AD Pencil Award - Product Design, IF Design Award - Discipline: Product, Fast Company Honoree - Innovation by Design, Business Insider - Most Exciting Innovation, Spark Design Award - Product Design This product is only compatible with NPT pipe fittings (standard in North America), for compatibility with BSPT pipe fittings (standard outside North America) visit the manufacturer's website.
Features:
BEST EXPERIENCE: The Nebia Spa Shower provides an immersive sensation with 10x more spray coverage on your body. Millions of tiny droplets envelop you, creating a premium, spa-like shower experience. The simultaneous Head and Wand sprays will leave your skin clean and soft.
INNOVATIVE TECHNOLOGY: The Nebia spray pattern is precisely contoured to the shape of the body and uses 70% less water than a regular shower. Between the water and energy savings, Nebia pays for itself; the average home saves 20,000 gallons of water per year.
AWARD WINNING DESIGN: With unparalleled form and function, the system provides extreme adjustability with over 2 ft of smooth, vertical sliding and a magnetic Wand Dock. MADE IN THE USA from premium materials with an anodized aluminum body and stainless steel nozzles.
RINSE WITH EASE: The Nebia droplets travel at twice the velocity of an ordinary shower stream, thoroughly rinsing shampoo and conditioner from even the thickest hair. Use the handheld Wand and/or the Strength Mode for an extra boost of water.
EASY TO INSTALL, EASY TO MAINTAIN: Includes tools for easy DIY installation without calling a plumber or breaking tile. Doesn't require any more cleaning than a standard shower, however it includes cleaning caps to simplify removal of hard water buildup. IMPORTANT: please check compatibility requirements to make sure the Nebia Spa Shower fits in your shower stall (key dimensions are water outlet height and space for bracket). Only works in NPT piping (North American Standard).
Brand: Nebia
Color: Silver
Publisher: Nebia
UPC: 850973008004
EAN: 0850973008004
Package Dimensions: 25.0 x 24.0 x 11.0 inches