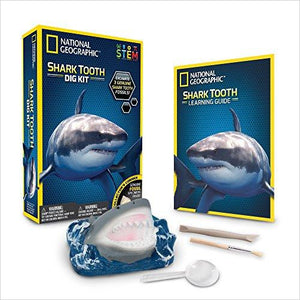 Details: Excavate 3 Genuine Shark Teeth Fossils from the Ocean's Deadliest Predators!

National Geographic's Shark Tooth Dig Kit lets children dig up and explore fossils from three different species of shark. With a full-color learning guide full of amazing shark facts and pictures, kids will have a blast while they identify the teeth of the sand tiger, otodus, and crow sharks, and learn all about what make sharks the ocean's most feared predators.

This science kit includes: A shark-themed digging brick with 3 fossilized shark teeth (each from different species of shark), archeological digging tools, full-color learning guide, and magnifying glass.

This dig kit makes a great gift for any child ages 6-15 years with an interest in sharks, fossils, or science. With 3 amazing fossils to uncover, children can start an impressive fossil collection that they can show their friends.

This kit is a favorite among both boys and girls. So get your Shark Tooth Dig Kit today and learn all about the underwater world of the shark!

National Geographic Toys is proud to provide a 100% satisfaction guarantee with all our products so that you can buy with confidence.

About the National Geographic Society
With a mission to inspire people to care about the planet, the 126-year-old National Geographic Society is one of the world's largest nonprofit scientific and educational organizations.

National Geographic's net proceeds support vital exploration, conservation, research, and education programs.
Features:
EXCAVATE 3 REAL FOSSILS - Dig and discover 3 real shark tooth fossils, each from a different shark species! Start an impressive fossil collection
BECOME A SHARK SCIENTIST - Identify teeth from the Sand tiger, Otodus, and Crow sharks and learn awesome shark facts with the included learning guide
EDUCATIONAL HANDS-ON FUN - Kids will love digging up these fossilized teeth and learning all about sharks! This kit makes a great homeschool lesson!
INSPIRING A GENERATION - Make learning fun! This exciting digging adventure will inspire future archeologists and marine biologists
RESPECTED QUALITY - Providing children with the best educational toys, this kit is backed by National Geographic's 100% satisfaction guarantee
Brand: NATIONAL GEOGRAPHIC
Genre: Science
Publisher: Discover with Dr. Cool
Warranty: 30 day warranty against manufacturer defects
UPC: 851456006043
EAN: 0851456006043
Release Date: 2017-10-05
Package Dimensions: 9.2 x 6.1 x 2.3 inches
Languages: Spanish, Portuguese, Latin Spanish, English