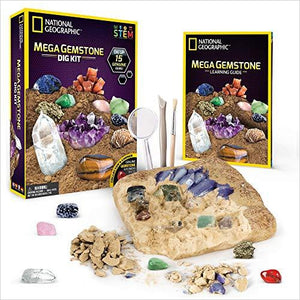 Details: This Premium Science Dig Has It All!

Dig into this Mega Gemstone Mine with the archeological tools provided and explore naturally formed crystals and gemstones from around the world. Unearth these gemstones and add them to your rock collection. You'll learn all about each stone and about how they are formed with the detailed learning guide included in this kit. STEM science learning just doesn't get any better!

This science kit includes: Large dig brick containing 15 gemstones, full-color learning guide, archeological digging tools, and magnifying glass.

Get the Mega Gemstone Mine today and join National Geographic as we inspire future generations with a passion for science and the wonders of the natural world.

National Geographic Toys is proud to provide a 100% satisfaction guarantee with all our products so that you can buy with confidence.

About the National Geographic Society
With a mission to inspire people to care about the planet, the 126-year-old National Geographic Society is one of the world's largest nonprofit scientific and educational organizations.

National Geographic's net proceeds support vital exploration, conservation, research, and education programs.
Features:
Discover crystal treasures and give your child the thrill of digging in a real gem Mine
Find 15 amazing gemstones including pyrite, amethyst, tiger's eye, fluorite, quartz, obsidian, Aventurine and more
Everything you need including a dig brick, chisel, brush and magnifying glass to keep kids digging for hours
16-Page, full-color learning guide illustrates how gemstones are formed and mined and helps young scientists identify each specimen as it's discovered
100% satisfaction guaranteed - for 129 years, NATIONAL GEOGRAPHIC has provided fascinating and fun educational opportunities to aspiring Scientists around the world.
Brand: NATIONAL GEOGRAPHIC
Color: multicolored
Genre: Science
Publisher: Discover with Dr. Cool
Warranty: 30 day warranty against manufacturer defects
UPC: 090084818530
EAN: 0746550253748
Release Date: 2017-01-01
Package Dimensions: 10.0 x 7.3 x 2.3 inches
Languages: English