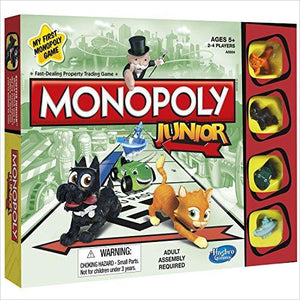 Details: Welcome to the first Monopoly game for kids, where they can earn money the fun way! The Monopoly Junior game is just like the classic Monopoly game, but it's accessible and exciting for younger players. It's fast, simple, and full of surprises. Kids choose their favorite Junior token and learn how to pass Go, buy properties, and collect rent. Single banknotes keep the transactions fast and easy.

The Hasbro Gaming and Monopoly names and logos, the distinctive design of the gameboard, the four corner squares, the Mr. Monopoly name and character, as well as each of the distinctive elements of the board and playing pieces are trademarks of Hasbro for its property trading game and game equipment.
Features:
My First Monopoly Game: the classic game for younger players
Adorable Junior Tokens: play with classic tokens before they grew up
Fun, Kid-Friendly Properties: buy cool properties such as the pet store, the candy store, and the video game arcade
Fast, Fun, and Simple to Play: easy rules use single dollar bills for simple transactions
Includes: Gameboard, 4 tokens, 20 chance cards, 48 sold signs, 90 banknotes, 4 character cards, and 1 die
Ages 5 and up. 2 to 4 players.
Fast-trading Monopoly Junior game is for younger players
Game is like the classic Monopoly game but easier for kids
Properties are fun places like an ice cream parlor and a skate park
Single banknotes keep the transactions quick and easy
Includes gameboard, 4 tokens, 20 Chance cards, 48 Sold signs, 90 x M1 banknotes, 4 Whos Your Token character cards, and 1 die
Brand: Hasbro
Color: Multi/None
Genre: strategy
Legal Disclaimer: IN NO EVENT, REGARDLESS OF CAUSE, SHALL Seller (mcelhit) BE LIABLE FOR ANY INDIRECT, SPECIAL, INCIDENTAL, PUNITIVE OR CONSEQUENTIAL DAMAGES OF ANY KIND AS A RESULT OF THIS PRODUCT, WHETHER ARISING UNDER BREACH OF CONTRACT, TORT (INCLUDING NEGLIGENCE), STRICT LIABILITY OR OTHERWISE, AND WHETHER BASED ON THIS AGREEMENT OR OTHERWISE, EVEN IF ADVISED OF THE POSSIBILITY OF SUCH DAMAGES.
Manufacturer Parts Warranty Description: Parts
Publisher: Hasbro
Warranty: No Warranty
UPC: 653569923190
EAN: 7104622481957
Release Date: 2018-03-01
Package Dimensions: 12.9 x 10.5 x 1.8 inches
Languages: English