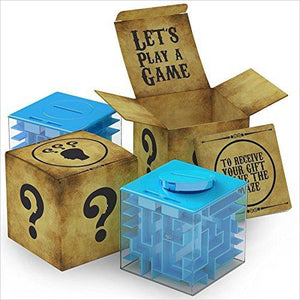 Details: aGreatLife Money Maze: Make Giving Presents Fun With a Challenging Maze Puzzle Box When it feels so awkward to give money in envelopes and you're tired of wrapping present boxes, and you just want to make your loved ones experience something more exciting and unusual, then you know you need to get something as creative and fun as the Money Maze Puzzle Box. SURPRISE YOUR FRIENDS! No need for fancy present wrappers! This money maze is a unique way to conceal small presents while keeping that element of surprise for the recipient. With this Maze Box, present giving has never been more fun. It's great for giving graduation money, small keychains, rings, small watches, jewelry, or souvenirs. Watch as the recipient has fun trying to solve the puzzle to access their present. FOR ALL AGES Make present giving fun and challenging This a-MAZE-ing box is a great way to make present-giving fun and quirky - by letting the receiver work for their reward! Simply drop coins, currency, or checks through the slot, and to access the present, the puzzle must be solved. The Maze Box is not only a unique present box, it's a challenging puzzle, a conversation starter, an intriguing money bank, and also a great accessory for your desktop. Like the tradition of present-giving, this maze box is suitable for all ages. You can give it to your nephew, your uncle, your daughter, a coworker, a friend - just put the present in the slot, and give away! Rings, bracelets, necklaces, charms, keychains, birthstones - the possibilities are endless! WORK THROUGH THE MAZE AND GET THE LOOT! GIVING MONEY DOESN'T HAVE TO BE AWKWARD This money maze has a slot for presents and the tantalizing puzzle acts as "lock" that needs to be picked for the present to be withdrawn. Watch as the recipient "works" to receive their present! This unique present box also serves as a secure coin bank and interesting desk ornament.
Features:
NO MORE BORING ENVELOPES, REAL HANDS - ON FUN IS HERE! - Your kids and teens deserve a little more fanfare than personal birthday or Christmas cards. It's affordable for the giver, awesome for the recipient, and can be used as a coin or money bank.
HOW TO GET THE MONEY MAZE LOOT? - 1. Position the ball in the slide bar or that little latch on top. 2. Once the ball is positioned, push the slide bar across to open the money maze bank. 3. Open the circular lid to the money bank. 4. Insert your reward and close the lid.
GREAT FUNNY SURPRISE IDEAS FOR TEEN BOYS, GIRLS AND OFFICE MATES - This non-toxic 3x3x3 MONEY BOX comes in two colors and is the new way to show you care without breaking the bank. It can also be the fun office gag presents for your kris kringle in the office.
ENHANCE SPATIAL AWARENESS - The only maze puzzle that develops motor skills, concentration, perception and most of all patience! Enhances spatial awareness and deeper understanding of logic.
WE HAVE YOUR BACK - LET THE KIDS PLAY THIS COOL BLUE MONEY MAZE ANYTIME ANYWHERE. We are committed to give you a fun and exciting play time. If you have any problems with our toys or are not satisfied with its operation we will be happy to grant you a full refund or ship you a replacement.
Brand: aGreatLife
Color: Blue
Publisher: aGreatlife
UPC: 646437258128
EAN: 0646437258128
Package Dimensions: 3.5 x 3.5 x 3.5 inches