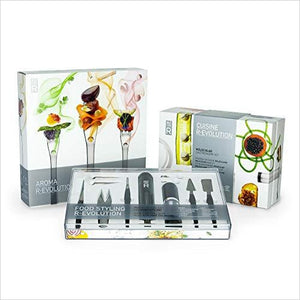 Details: The best giftset for the avid cook like for the beginner. Learn about molecular gastronomy, volatile flavoring and food styling with our 3 kits! What's inside? ● Cuisine R-EVOLUTION Kit: - 1x silicone mold - 1x slotted spoon - 1x measuring spoon - 1x plastic syringe + 2x tubes - 3x pipettes - 5x agar-agar sachet (2 gr each) - 5x calcium lactate sachet (2 gr each) - 5x sodium alginate sachet (2 gr each) - 5x soy lecithin sachet (2 gr each) - 1x recipe booklet ● FOOD STYLING KIT: - 1x pair of fine scissors - 1x scalpel with 2 blades - 1x culinary syringe with 2 syringe tips - 1x oil vaporizer (Mister) - 1x pair of precision tweezers - 2x spatulas ● AROMA R-EVOLUTION Kit: - 21x aromas - 4x aromaforks - 50x diffusion pastilles - 4x droppers - a multi-sensory evening program
Features:
WHAT'S INSIDE: - 1x molecular gastronomy kit CUISINE R-EVOLUTION - 1x food styling kit FOOD STYLING R-EVOLUTION - 1x Volatile flavoring kit AROMA R-EVOLUTION (see detailed content in the product description below)
CUISINE R-EVOLUTION KIT: Bring your culinary creativity to the next level with spectacular dishes such as mint caviar beads that burst in the mouth, chocolate spaghetti, lemon foam or tzatziki spheres! This "do it yourself" molecular gastronomy kit includes all you need to experiment at home with the molecular techniques seen on Top Chef and in high-end restaurants, but without the celebrity chef price tag!
FOOD STYLING KIT: From tweezers to scissors, syringe to scalpel, each high quality tool has been carefully designed and engineered to make styling your culinary creations at home easier than ever.
AROMA R-EVOLUTION KIT: Your taste buds can only recognize 5 primary tastes, while your nose is capable of distinguishing the subtle flavors of food as aromas reach the back of your palate upon expiration. This volatile flavoring kit and its AROMAFORKS provide a flow of aromas upon inhalation, therefore doubling the flavors your brain can analyze!
PERFECT GIFT FOR FOODIES: Looking to surprise a foodie friend? This Triple Skill Molecular Gastronomy Set is the perfect gift for a lover of food and artistic culinary composition. Experiment with Molecular Gastronomy at home!
Brand: Molecule-R
Color: Gray
UPC: 831835004396
EAN: 0831835004396
Package Dimensions: 16.7 x 11.4 x 6.9 inches