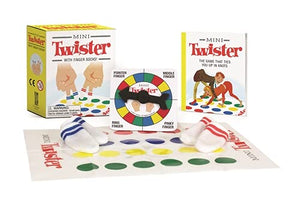 Get ready for some finger-twisting fun with our officially-licensed TWISTER mini game kit! This classic game has been a fan favorite for over 50 years, and now you can enjoy it in a new and exciting way. Perfectly portable, this kit will keep you and your friends entertained for hours, whether you're at home, in the park, or on a road trip.
Our TWISTER mini game kit includes a mini Twister mat, spinner, mini tube socks for your fingers, and a mini book packed with history, trivia, and the rules of MINI TWISTER. This game is perfect for fans of all ages and is a great way to add some nostalgic fun to your next gathering.
As an iconic brand for over five decades, we take pride in bringing you the very best in fun and entertainment. Our author is a TWISTER aficionado, with years of experience in twisting and turning her way to victory. She's packed this kit with everything you need to enjoy the classic game in a new and exciting way.
So, what are you waiting for? Order your TWISTER mini game kit today and experience the excitement and hilarity of the classic game, now with a twist! Whether you're a seasoned player or new to the game, this kit is sure to provide you with hours of fun and entertainment. Don't miss out!