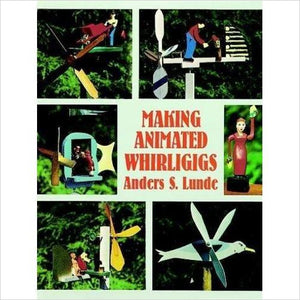 Details:
The handcrafted, wind-powered toys known as whirligigs have enchanted observers for centuries with their whimsical images: birds with spinning wings, people waving their arms, and countless other fanciful figures. In this volume, an expert at designing and making whirligigs shows both novices and experienced woodcrafters how to create more than two dozen large-scale animated models.
The author's easy-to-follow discussions of design and construction covers key elements such as the propeller and driving mechanism and features step-by-step instructions and detailed illustrations. Best of all, these projects require no elaborate tools and only the most inexpensive materials.
Choose from both traditional and original models, including the functional variety (weather-vane whirligigs, a mole chaser, a bird scarer, and more) as well as purely decorative types: the Gooney Bird, Tony and His Wheelbarrow, Eleanor at the Tub, Pete Sawing Wood, the Moon Ship, and others. Assembling these imaginative creations will provide you with hours of satisfaction and will delight viewers.
Author: Anders S. Lunde
Brand: Anders S Lunde
Edition: Unabridged
Features:
Making Animated Whirligigs
Format: Unabridged
ISBN: 0486400492
Number Of Pages: 160
Publisher: Dover Publications
Release Date: 1998-01-23
UPC: 800759400492
EAN: 9780486400495