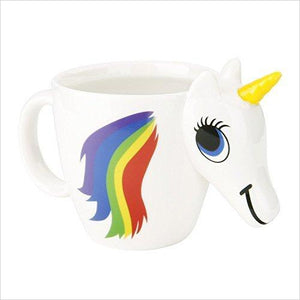 Details: A color changing unicorn coffee mug makes your mornings spectacularly magical! Enjoy showing off your unicorn LOVE?
In need of unique unicorn gifts for girls, teenagers, coworkers & anyone else on your list who loves these majestic creatures?
Get Ready To Instantly Witness the Wizardly Transformation of Our COLOR CHANGING UNICORN MUG! 🦄
💚 SUPER CUTE 3D UNICORN TEA/COFFEE/COCOA MUG: Decked out with a gorgeous 3D unicorn design, this trendy
coffee mug steals hearts everywhere it goes. The painted face is smiling sweetly, while the golden unicorn horn regally stands out.
🧡 CHANGES COLOR WHEN HOT LIQUID IS POURED IN: Simply add hot water, coffee, tea, cocoa or any other warm drink
to the heat change unicorn mug to watch the colors of his/her mane instantly change! The result is a stunning rainbow that radiates.
💙 WIDELY LOVED BY ADULTS & KIDS OF ALL AGES: Whether young or old, you're going to adore this magic unicorn mug!
The kids can use it to drink cocoa on cold mornings & the older adults can use it when sipping their daily coffee, espresso or herbal tea.
💜 STRONG, TOP QUALITY CERAMIC (HAND WASH): Crafted out of an extra durable ceramic & upgraded with heat sensitive
technology that allows it to magically change color, this rainbow unicorn mug should NOT be put in the microwave or dishwasher.
💛 #1 UNICORN GIFTS FOR WOMEN, MEN, TEENS, ETC: Give your favorite person a gift that keeps on giving. Surprise him
or her with a fabulous unicorn mug. This really is the BEST unicorn mug for kids, men & women under the spell of unicorn magic!
The typical color changing coffee mug is ultimately boring when compared to our heat sensitive unicorn mug. It brings EXCITEMENT.

Features:
ADORABLE 3D UNICORN MUG: Designed to capture the magnificence of unicorns from your favorite fairy tales, these color-changing coffee cups are just as cute as can be! The face is prettily painted & the golden horn glistens.
CHANGES COLOR WITH HEAT: Enhanced with color changing technology, the ceramic unicorn mug changes color right before your eyes when heat is applied. Colors of the mane are plain & then turn into a multicolored rainbow!
STANDARD TEA CUP CAPACITY: Able to hold up to 9 fl oz & outfitted with an easy grab handle, this magical unicorn mug is the ideal cup to use when sipping hot tea, coffee & cocoa. It's fun, fabulous & fit to impress coworkers.
HAND-WASH RECOMMENDED: Due to the unique nature of our heat changing unicorn mug, it is NOT microwave-safe or dishwasher-safe. To maintain the magical color-changing effect, we suggest washing the mug by hand.
COOL GIFT FOR KIDS & ADULTS: Looking for unicorn accessories to gift? Today is your lucky day. You've just discovered the BEST unicorn gifts for women, girls, boys & men who are young at heart. Unicorns are just so lovable!
Brand: Keepin it Fresh
Color: White
UPC: 711877252866
EAN: 0711877252866
Package Dimensions: 5.0 x 4.9 x 4.2 inches