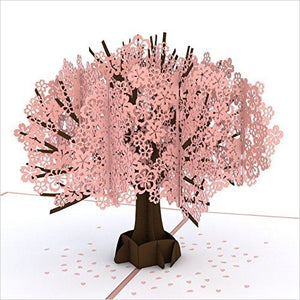 Details: The cover of this lovely pop up card features a laser-cut illustration of a blooming cherry blossom branch. Delicate petals fall gently from the branch in this beautiful depiction of one spring's loveliest sights. Once opened this card reveals a stunning pink cherry blossom tree in full bloom. Full of detail and stunning color, and surrounded by cherry blossom petal embellishments around the base of the tree, the pop up cherry blossom tree is as wonderful as the real thing. Cherry blossoms are the quintessential sign that spring has arrived. Japanese Cherry Blossom trees, also known as Sakura, are among the most impressive and lovely of the cherry blossom tree family. Kathie, a Lovepop designer, made this card because it reminds her of the time she spent studying abroad and her close connection to Japanese culture. There's also an interesting phrase in Japanese called Hanafubuki, which refers to the aftermath of gust winds and the subsequent swirling cherry blossoms that envelop you and your surroundings in a flower blizzard as you stroll through the park that also inspired this elegant design. The cherry blossom pop up card is the perfect way to celebrate spring's arrival with a friend or loved one. Send to someone special to let them know that winter's end is near and there are warmer days to look forward to. Also an unforgettable birthday or Mother's Day card for the cherry blossom lover in your life. Our cherry blossom card is blank so you are not limited to a specific occasion or use. Thank a colleague for pitching in on a project, congratulate your cousin on their impressive gardening efforts, or simply keep the pop up for yourself and adorn your workspace with your very own indoor cherry blossom. This beautiful card is 5 inches wide by 7 inches tall. Includes one embossed Lovepop envelope.
Features:
LOVEPOP CARDS: The perfect onset to Mother's Day, Spring, or a Birthday can be done with a beautiful cherry blossom 3d pop card; this 3d greeting card is perfect to celebrate multiple occasions, such as to celebrate your mother on Mothers Day, or a birthday, anniversary, graduation, or to say a simple thank you to someone
MOTHERS DAY CARDS: Give your mother this very special greeting card pop-up for Mothers Day; this pop card is made using a Japanese technique called Kirigami and is laser-cut for a high quality design
UNIQUE POP UP CARD: The front of this cards pop up features a laser-cut illustration of a booming cherry blossom branch and delicate petals; upon opening, the card reveals a stunning pink cherry blossom tree in full bloom
WHAT'S INCLUDED: The dimensions of this 3d pop up greeting card are 5" W x 7" H; cherry blossom card comes with one blank envelope, the Lovepop note, and a little note card to write your personal message on that tucks away securely
PREMIUM QUALITY CHERRY BLOSSOM CARD: To ensure you receive an authentic Lovepop, please order and check our more images from Lovepop, Inc.
Brand: Lovepop
Publisher: Lovepop
UPC: 842246115335
EAN: 0842246115335
Package Dimensions: 7.2 x 5.2 x 0.3 inches