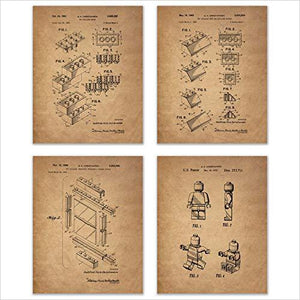 Details: Lego Patent Prints

The history of Lego spans nearly 100 years. Godtfred Kirk Christiansen was the managing director of The Lego Group from 1957 to 1979. Godtfred and his family before him and after were dedicated to always providing new and improved ideas for Lego. He was the inventor behind the following four patents.

Christiansen patented the toy building bricks on Oct. 24, 1961.
These building blocks, strips, or similar building parts can be assembled without the use of additional elements provided with complementary holes, grooves, or protuberances, e.g. sidewalls

He filed a patent for toy building sets and building blocks on May 15, 1962.
The principal object of the invention is to provide improved coupling means for clamping such building blocks together in any desired relative position thus providing for a vast variety of combinations of the blocks for making roof structures of many different kinds and shapes.

On Nov. 15, 1966 he patented his toy building structures.
The frame construction according to the invention can readily be fitted in any location of-the building and in any desired dimension and shape. These several elements are especially suitable for windows.

The toy figure was patented on Dec. 18. 1979.
Today these are called minifigures.

------------------------------------------------------------------------------

Why BigWig Prints is the PREMIER PHOTO Seller on Amazon...

Professional Quality Photographs and Prints at GREAT Prices
Our photos are developed on 100 year archival premium-grade paper.

30-Day Money-Back Guarantee
You may return your photos within 30 days for a full refund of the purchase price.

Super Fast Shipping time
All our photograph orders are processed and fulfilled by Amazon. FREE Two-Day shipping with Amazon Prime!!
Features:
Unique Lego reproduction patent prints for yourself or as a great gift for any Game or Toy room
Add these historical conversational art pieces to your home
Four photos, 8x10 - 8 inches by 10 inches, Prints do not come framed
Premium grade photo paper, 100 year archival rating, designed to last a lifetime
Purchase with Confidence: We are so certain you will love these photos we offer a 30 day no questions asked money back guarantee
Brand: BigWig Prints
Publisher: BigWig Prints
UPC: 782398987636
EAN: 0782398987636
Package Dimensions: 12.0 x 10.0 x 0.5 inches