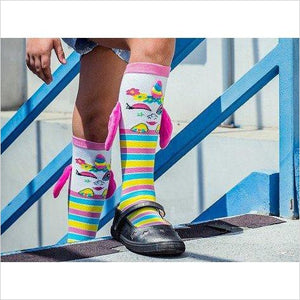 Details
Wear these vibrant animal socks with ears and wings—and you'll be noticed. The colorful characters have movement, too, with the ears or wings flapping as you walk. Designed by Russian YouTube star Olga Kay, each pair ensures you'll stand out. Their soft, stretchy material reaches knee high and has a non-skid bottom to add even more conviction and personality to your stride.
Materials: 70% cotton, 22% polyester, 5% rubber, 3% elastane
Care: Machine wash, tumble dry. Recommended to use a mesh laundry bag or turn inside-out to protect ears and wings
Comfortable and stretchy
Knee high length
Non-skid bottom provides traction
Note: Each of the soft ears has a small slit on its underside
One Size; fits Women's sizes 5-13
Dimensions: 19" x 3" x 0.5"
Weight: 0.13 lb.
About MooshWalks
Sock Personality
These socks with ears pledge to add color and personality to your outfit. Each pair of this knee-high hosiery has its own vibrant personality, complete with little ears or wings that flap when you walk.
Maker Olga Kay is a trailblazer. At 14 she left her small village in Russia to join the circus and eventually became a famous YouTube personality.
When she designed MooshWalks she knew for certain they had to stand out and start conversations. Olga did that and more. Wear a pair and you'll definitely be noticed.
Even though the socks are attention-getting, we found them to be soft and durable, too. We suggest wearing them with a dress or shorts to ensure a full-length view of the lively, lighthearted characters.