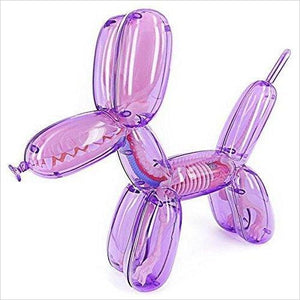 The Balloon Dog Anatomy Model is a unique and humorous educational toy designed by Jason Freeny. It provides a fun and creative way to learn about anatomy while assembling the model. Here are the details:
Design: The model is shaped like a typical balloon dog but with a twist. It features a detailed balloon dog skeleton and detachable organs, revealing what a balloon dog might look like on the inside if it had a skeleton and anatomical organs. The outer casing of the balloon dog is made of purple plastic.

Assembly: The model comes with a total of 26 pieces that are easy and fun to assemble. An assembly guide is included to help you put it together correctly.

Size: The completed model measures approximately 250mm in length (about 10 inches) and stands about 8 inches tall.

Educational: This unique anatomy model is a great way to spark interest in anatomy, especially among kids and curious individuals. It provides a playful and entertaining approach to learning about the human body's inner workings.

Age Recommendation: The Balloon Dog Anatomy Model is recommended for ages 8 and up. However, it contains small parts and is labeled as a choking hazard, so it's not suitable for children under 3 years old.
This model combines humor and education, making it an excellent gift or educational tool for those who have an interest in anatomy or simply enjoy quirky and creative toys. It's a conversation starter and a unique addition to any collection.