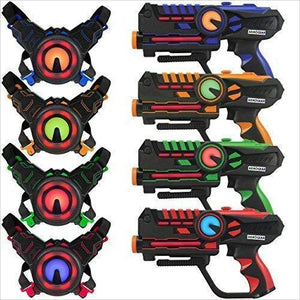 Details: The ArmoGear Kids Laser Tag Gun Set has finally been released!

Searching for the perfect group activity to engross kids of all ages (and kids at heart)?

Tired of fake, on-screen battle simulations, and looking for some REAL action?

Prepare for battle with the cutting-edge Laser Battle Mega Pack, offering you innovative new features
that raise the game to a whole new level!

What makes the ArmoGear set superior to any other laser gun sets out there?


TARGET VESTS that can receive hits, just like in authentic arcade Laser Tag!
GUNS CAN ALSO ACT AS RECEIVERS using 100% Child-Safe infrared technology
INVISIBLE MODE turns your lights off to hide your location
NIGHT VISION FLASHLIGHT useful for finding your opponent in the dark
CLEAR, VOICE-GUIDED DIRECTIONSlead you through gameplay
Astonishing 150 FT SHOOTING RANGE - works flawlessly indoors or outside

The Multi-Player Laser Tag Game that will lead to hours of entertainment, creating wonderful memories
with family and friends!

All you need for a fun-filled day is this kids laser tag set and a group of willing participants!

Look no further for the PERFECT Gift Idea!

Enjoy the ear-to-ear smile on kids' faces when they unwrap this thrilling toy!
You'll make their day when presenting this exciting gift for Christmas, birthday, graduation, or any other occasion.

With our FULL Money-Back Guarantee and 5-star customer service, you've got nothing to lose!


Click "Add to Cart" now for a purchase worth making!

Batteries not included, each gun uses 3 AAA batteries and each vest uses 3 AAA batteries
(set of 4 totals to 24 AAA batteries)

Features:

AUTHENTIC LASER TAG GAME 🔥 Turn your home or backyard into a laser tag arena with the ArmoGear laser tag blaster set, the most advanced set of laser tag blasters out there! No other laser tag set has real TARGET VESTS, INVISIBILITY MODE, NIGHT VISION FLASHLIGHT, VOICE-GUIDED DIRECTIONS, and an extreme 150 FT SHOOTING RANGE!
MULTI-PLAYER, MULTI-AMMO 🔥 Up to 4 teams can play in this riveting battle! Switch between the unique powers of PISTOL, SHOTGUN, MACHINE GUN, and ROCKET to blast your enemy and declare victory! These laser blasters are ergonomically designed with a solid grip in your hand, easy to handle even for young kids. 100% SAFE, using Child Safety Infrared Signal Emission - 0.9mW.
FUN FOR THE WHOLE FAMILY 🔥 Tactile vibrations and lifelike shooting sounds make for deeply immersive gameplay, guaranteed to turn kids and adults away from their screens! Have a blast and create cherished memories on holidays, snow days, or birthday parties, with a fun family laser tag tournament! It's the PERFECT GIFT IDEA, sure to delight kids of all ages!
PREMIUM QUALITY & DURABILITY 🔥 Why spend more on lazer tag blasters that are prone to defects, forcing you to go through the hassle of returns and exchanges? The ArmoGear laser blasters for kids are made according to the highest manufacturing standards for a top-quality, long-lasting toy. In addition, they are rigorously inspected by our quality assurance team to weed out any defective units and ensure you get a complete, fully functional set!
CUSTOMER SATISFACTION GUARANTEE 🔥 We walk the extra mile to ensure you are 100% satisfied with this product, by offering a FULL money-back guarantee! Please feel free to contact us in case of any issues or concerns with your order, for a hassle-free refund and your money back. Batteries not included, each blaster uses 3 AAA batteries and each vest uses 3 AAA batteries. (set of 4 totals to 24 AAA batteries)

Brand: ArmoGear

Publisher: NessToy

UPC: 818907029044

EAN: 0818907029044

Package Dimensions: 13.8 x 9.5 x 6.7 inches