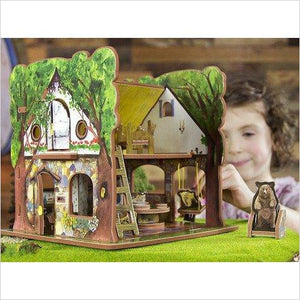 Details
Each play-set is a 3-D puzzle, storybook, and toy house. The sets are made to be assembled and re-assembled and come in a portable carrying case for easy storage.
Materials: EVA foam and cardstock
Hansel & Gretel includes: Witch's candy house, 5 dolls, candy trees and flowers, chocolate bar stairs, and storybook
Goldilocks & The Three Bears includes: Three bears house, 4 dolls, furniture, and storybook
Three Little Pigs includes: Straw house, stick house, brick house, 4 dolls, trees, furniture, and storybook
Best for children ages 3-6 (Not for children under 3—choking hazard)
Assemble house and furniture by pressing tabs into tab holes
No batteries or tools required
Toy house and furniture pieces store flat in portable carrying case
100% recyclable
Dimensions (in packaging): 10" x 9.75" x 3"
Weight: 2 lbs.
About Storytime Toys
Once upon a time
The stories of Goldilocks and the Three Bears, Hansel and Gretel, and The Three Little Pigs have withstood the test of time entertaining generation after generation from one country to the next. Now Storytime Toys brings these time honored childhood classics to the next generation in a brand new way.
Storytime Toys are richly imagined, artfully designed books and playhouses in one. Made of lightweight EVA foam and high quality card stock, the houses fit together like a 3-D puzzle and fold flat in a portable carrying case conveniently designed to fit on your bookshelf. Assembling the houses and furniture is as easy as pressing tabs into place. No tools or screws required. It's so simple—it really is child's play.
Founded by Mechanical Engineer and Mom Kara Dyer, Storytime Toys creates toys that promote imaginative play and encourage literacy. The artist responsible for the beautifully painted artwork that makes each house and its characters so captivating is RISD trained Art Director, Sara Argue.
Safe, environmentally friendly, and battery free, Storytime Toys bring new meaning to the phrase happily ever after. When the book ends, the story is just beginning.