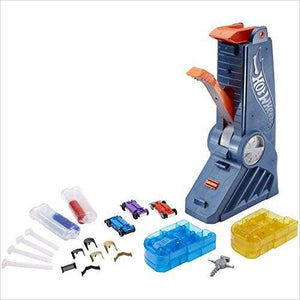 Details: ​Now kids can create their own unique customized cars! Use the Hot Wheels Fusion Factory to create custom silicone vehicle bodies then add a chassis and accessories and they're ready to race! The Hot Wheels Fusion Factory puts kids in the driver seat of vehicle design with tons of options. They can make up to 4 epic Hot Wheels cars right out of the box! These cars aren't just for show— they can hit epic loops, ramps and stunts with true Hot Wheels performance, too. It's safe and easy to use. Choose your car mold and insert into the top of the factory. Select a color (2 color syringes included) and insert your selection and the mixing stick into the machine. Pull the lever down to start mixing the materials. Set the timer and wait for the silicone to cure (timer included). Finally remove the body from the mold and attach a chassis (4 chassis included). Then really get detailed! Customize the car with awesome accessories and get ready to race a new speed machine! Additional car-making materials can be purchased with Fusion Fluid refill packs designed for the Hot Wheels Fusion Factory (sold separately). Ages 5 and older.
Features:
Now kids can make their own fully functioning Hot Wheels car in a matter of minutes!
Choose a mold, the color you want and accessories to create a unique, customized Hot Wheels car
Frustration free compound! No mess with the simple-to-use Fusion Fluid cartridge
Kid-powered- no batteries or electric components necessary; just click the cartridge in place, push the lever down and watch the magic!
Cars are ready in as little as 5 minutes! Set the timer and start preparing the next mold for the assembly line!
Brand: Hot Wheels
Publisher: Mattel
Warranty: 1 year warranty against manufacturer defects
UPC: 887961187960
EAN: 0062575753637
Release Date: 2016-04-13
Package Dimensions: 15.1 x 8.9 x 4.0 inches
Languages: Spanish