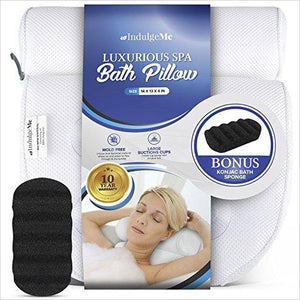 Details:
Luxury at its Best!
Sinking into deep bubble invaded water and running a warm towel over your body goes beyond good hygiene. It's a special time to gather your thoughts, regain your sanity, and finally get the relaxation your body's craved all day... possibly all week. Gaining the relief a good bath offers can be as simple as choosing the right bath accessories, such as a supportive pillow allowing you to soak comfortably as you sink into warm water that soothes the skin likely exposed to the unknown (and possibly unclean).
Cloud Nine Spa Pillow is the perfect solution for any bath made to give the ultimate relaxation experience.
BUT WHAT MAKES THE CLOUD NINE SPA SET DIFFERENT?
Cloud Nine Spa Set is offered as a set with 1 bath pillow and a Konjac Bath Sponge, saving the savvy consumer money better spent on other luxuries outside the bathroom. Cloud Nine's pillow provides a 2 part cushioning to allow for better neck and upper back support. Discover the quick-drying, comfortable, mildew resistant solution to a better bath that only Cloud Nine can give. 
Hit the 'Add To Cart' button to the top right to begin a voyage to a more relaxing and memorable bathing experience. 
Click the Yellow ADD TO CART button now!
Features:
SPECIAL BONUS KONJAC SPONGE: In addition to this high end bath cushion you will also receive this hot selling Konjac Bath Sponge which usually retails for over $10 by itself! Improve your skin texture with this bamboo charcoal Konjac Sponge to gently exfoliate and deep cleanse your skin
EXTRA SUCTION CUPS: This pillow has 4 large suction cups which help it stick better then any other pillow on the market
MOST LUXURIOUS & COMFORTABLE PILLOW: This spa pillow is especially designed with comfort in mind. It is light, soft and supportive with a contoured shape that cradles you head, neck and back no matter what type of tub you have. We tried out many shapes and sized pillows before picking this one as the clear winner in every way.
NO MORE MOLD OR MILDEW: Tired of plastic pillow covers tearing and creating mold and mildew building in your pillow causing you to throw it out? New mesh anti bacterial mesh material allows water & air to flow through the Cloud Nine Pillow for quick drying
10 YEAR WARRANTY: This pillow is built to last and we stand behind it! We have a 10 year no questions asked warranty. This is the best bath pillow you will ever own. If not satisfied we will gladly refund your money.
Brand: IndulgeMe
Color: Konjac Bath Sponge
Publisher: Harrison House
Warranty: We stand behind all our products and offer a full money back guarantee.
UPC: 632709734155
EAN: 0632709734209
Package Dimensions: 13.4 x 13.4 x 3.5 inches