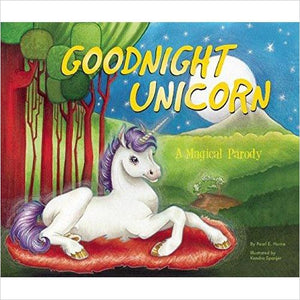 Details:
The perfect hardcover gift book for anyone head-over-hooves for unicorns, flying horses, or little ponies!

"For all those little lords and ladies who adore unicorns, this book is the bedtime story for them! The illustrations are top-notch and beautifully colored. The prose is perfect. Highly recommended." — The Children's Book Review

As night falls in the enchanted forest, the unicorns and their friends gather to get ready for bed. Say goodnight to all the types of unicorns — the pearly-whites, the foals, the oldens, the fluffies, the jet-blacks, the cuties, and more — as well as the wonderful beings who attend them, from rainbows and fairies to baby dragons and, of course, the full moon.

Readers who've always wondered about unicorn habits, what a group of unicorns is called, and other mysteries will also be captivated by the fun unicorn facts that follow the story.

It's a magical, fantasy bedtime story for unicorn lovers young and young-at-heart! Grown-up fans of My Little Pony, The Last Unicorn, and Lisa Frank will treasure this book just as much as the new generation of unicornophiles!

Features:
Brand: Bailiwick Press
ISBN: 1934649635
Author: Karla Oceanak
Number Of Pages: 32
Publisher: Bailiwick Press
EAN: 9781934649633
Release Date: 2016-05-10
Package Dimensions: 10.2 x 8.6 x 0.7 inches
Languages: English