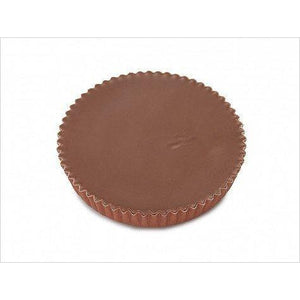 These giant peanut butter cups are big enough for the whole family. Made in the seaside town of Swampscott, MA with locally sourced ingredients, these come in pairs and ready to share.
Care: Store in a cool, dry place
Includes: 2 giant peanut butter cups
Handmade with peanut butter from Teddy's in Everett, MA (see detailed ingredients in flavor descriptions below)
Please note: Contains milk, soy, and wheat. Produced in a facility that uses peanuts, tree nuts, wheat, and milk.
Dimensions: Each Cup: 4" diameter x 0.75"
Weight: Each: 0.4 lb.
Flavors & Ingredients:
Dark Chocolate:

 

Peanut butter and dark chocolate

 



Ingredients: Sugar, chocolate liquor, chocolate liquor processed with alkai, cocoa butter, butterfat, soy lecithin, vanilla, dry roasted peanuts, peanut oil, corn syrup, hydrogenated rapeseed and cottonseed oils, salt, cornstarch, pasteurized cream (milk)
Milk Chocolate:

 

Peanut butter and milk chocolate

 



Ingredients: Sugar, milk, cocoa butter, chocolate liquor, soy lecithin, vanilla, dry roasted peanuts, peanut oil, corn syrup, hydrogenated rapeseed and cottonseed oils, salt, cornstarch, pasteurized cream (milk)
Dark Caramel Sea Salt:

 

Peanut butter, dark chocolate, and sea salt caramel

 



Ingredients: Sugar, chocolate liquor, chocolate liquor processed with alkai, cocoa butter, butterfat, soy lecithin, vanilla, dry roasted peanuts, peanut oil, corn syrup, hydrogenated rapeseed and cottonseed oils, salt, corn syrup, milk, fructose, hydrogenated coconut oil, butter, mono-and diglycerides, natural sea salt, corn starch, pasteurized cream (milk)
Dark Salted Pretzel:

 

Peanut butter, dark chocolate, and pretzel pieces

Ingredients: sugar, chocolate liquor, chocolate liquor processed with alkai, cocoa butter, butterfat, soy lecithin, vanilla, dry roasted peanuts, peanut oil, corn syrup, hydrogenated rapeseed and cottonseed oils, salt, enriched flour (wheat flour, niacin, reduced iron, thiamin mononitrate, riboflavin, folic acid), salt, corn oil, ammonium bicarbonate, malt extract, yeast, cornstarch, pasteurized cream (milk), salt
Milk Salted Pretzel:

 

Peanut butter, milk chocolate, and pretzel pieces

Ingredients: sugar, milk, cocoa butter, chocolate liquor, soy lecithin, vanilla, dry roasted peanuts, peanut oil, corn syrup, hydrogenated rapeseed and cottonseed oils, salt, enriched flour (wheat flour, niacin, reduced iron, thiamin mononitrate, riboflavin, folic acid), salt, corn oil, ammonium bicarbonate, malt extract, yeast, cornstarch, pasteurized cream (milk), salt
S'mores:

 

Peanut Butter, milk chocolates, with marshmallow and graham cracker

 



Ingredients: Sugar, milk, cocoa butter, cocoa mass, soy lecithin, vanilla, dry roasted peanuts, peanut oil, corn syrup, hydrogenated rapeseed and cottonseed oils, salt, corn syrup, dried egg white, vanillin cornstarch, pasteurized cream (milk), enriched palm oil, high fructose corn syrup, honey, artificial flavor, sodium sulfite