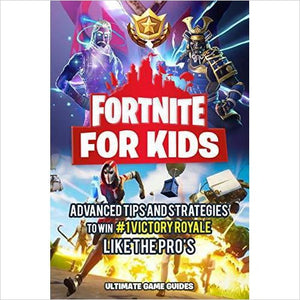 Author: Ultimate Game Guides
Format: Kindle eBook
Number Of Pages: 136
Release Date: 2018-09-08
Details:
EXCLUSIVELY MADE FOR KIDS to become a Fortnite Champion!
To succeed in Battle Royale you need to understand how the game works, how to build, how to fight and how to make the right choices at every point in the game. The focus of this guide will be on the most commonly neglected ways to boost your power as fast as possible.
Included are 2 books to help you win EVERY Battle Royale:
Fortnite:Battle Royale – The Ultimate Guide – SECRET TIPS, TRICKS AND STRATEGIES That The Elite Players and Top Streamers Use to Win
Fortnite: 500 Advanced Tips and Tricks to Dominate in Battle Royale!
With this guide you'll have the wisdom of the entire Fortnite community accumulated over thousands of hours of game time so you and your team can dominate in the game.
In this complete 2 in 1 guide you'll discover:
#1 defensive building technique new players must know
How to build fast even if you can't handle high sensitivity
How to level up and gain extra content
The best weapon combos for close range combat
The secret building strategy which will help you win more games
500+ completely unknown tips which even pros aren't aware of!
The undisputed #1 location to land for the best loot
A complete item comparison guide so you always have the best inventory
The secret of the battle bus which will help you choose the best landing spot
The completely legit way to always know where your enemies are (no cheating or hacking)
Best early, mid, and late game strategies
Inside Get Complete Fortnite Coverage on:
Battle Royale building tips and tricks
How to master Fortnite on mobile
Maximize Fortnite's PC performance
How to win Fortnite Battle Royale in no time!
Get all the information you need to improve the game in a single guide. You will find yourself doing better and better each game and enjoying the game even more!
Click "add to cart" to receive your book instantly!