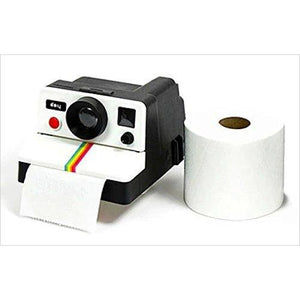 Details: Cameras in bathrooms tend to be there either for security reasons or for perverts. We promise not to label you as either when you purchase this camera lookalike to dispense your toilet paper. However, we can't vouch for your guests. Pollaroll Toilet Paper Holder transforms your bathroom going experience into retro fun. Playing on the design of a Polaroid camera, this holder dispenses a sheet of toilet paper just like it used to dispense film. One warning: After using it, don't shake, shake, shake it like a Polaroid picture. Comes with 1 roll of colorful photo style toilet paper fill. Can also be used with any standard roll of toilet paper.
Features:
Fun gift for people who love the retro look and feel of the 80s
Pollaroll Toilet Paper Holder With Colorful Refill
Camera lookalike for your bathroom
Comes with Color toilet paper and two small wall anchors for installation
There's not much to describe here, since it's pretty self-explanatory. The dispenser attaches next to your toilet like any typical dispenser, only instead of film, this camera lets you pull TP out of the place where photos would normally emerge.
Brand: eSmart
EAN: 7456458546349