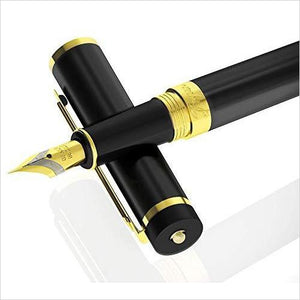 Details: This fresh, elegant, reliable black fountain pen from our Modern Classic Collection is a true marriage of the sophistication of finer days with the latest technology of modern times. Hand assembled and checked for flawless quality, it gives high precision and exceptional writing comfort for every occasion, coupled with a gorgeous design. With this pen in your possession, clients, colleagues, and friends will know you for your taste, class, and sophistication. Upgrade your pen collection today.
Features:
✅BE THE ENVY OF YOUR PEERS: Make a statement of sophistication every time you twist off the cap of this elegant Dryden fountain pen. Dryden Designs is a proud and sophisticated brand that gives those who use its pens a confidence to express their own style and a refined writing experience. Only by picking up a Dryden Pen can you truly appreciate its magnificence.
✅ A BRAND YOU CAN TRUST: This vintage pen has the perfect weight/comfort ratio to give you a relaxed and graceful writing experience. Our ergocomfort technology means you can enjoy hours of uninterrupted writing without any strain to your wrist or hand. Left handed? We've got you covered - our ink pens are designed to accommodate lefties too!
✅ TAKE YOUR PEN GAME TO THE NEXT LEVEL: Timeless Design. Elegant Ink Flow. Innovative technology. This is the fountain pen of fountain pens, and a must-have for any fountain pen user. It is the perfect gift for yourself, your family, your clients or anyone who values the joy of writing with a sophisticated writing instrument. We bring new meaning to the old adage "The pen is mightier than the sword".
✅ SOMETHING EXTRA - New to calligraphy pens? Included with every order is a PDF file complete with instructions and best practices for your Dryden Classic Pen. Any and all information you'll need to get started using and enjoying your luxurious writing tool will be right at your fingertips! To add ink cartridges, visit: https://www.amazon.com/dp/B01MQLPHWE
✅ BE 100% SATISFIED OR WE'LL BUY THE PEN BACK FROM YOU: Ordering a Dryden cartridge pen is risk free. If you're not 100% delighted we'll give you a 100% no-hassle refund. No questions asked. You won't get this kind of service elsewhere. Check the reviews for proof. As a family-run business, we put all our customers on a pedestal and guarantee them 5 star service.
Brand: Dryden Designs
Color: Intense Black
Publisher: Dryden Designs
EAN: 7431100659608
Package Dimensions: 7.0 x 1.5 x 0.3 inches