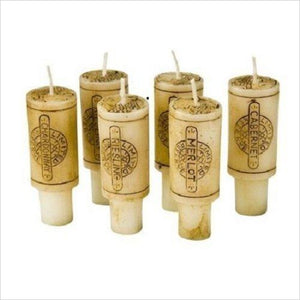 Details: Unique Decor By DecoGlow - DecoGlow's Wine Country candles are inspired by the rich scents and colors of vineyards. This unique collection of wine cork candles is a hit with wine enthusiasts. Each beautifully boxed gift arrives with 6 candles that look like wine corks and smell just like wine. Fit them into any wine bottle and you have a unique decoration to show off your taste in home decor or to use for romantic evenings at home. Fragrances of Merlot will drift through the air - a perfect gift for the wine lover! Also excellent housewarming gifts and hostess gifts so you never have to arrive empty-handed. Small Candles, Big Response - Each of these candles measure 3 inches tall and 1 inch in diameter and make perfect birthday candles, wedding cake toppers, and any celebration cake toppers. They are small just like wine corks. The aromatic scent however is anything but small. It smells just like merlot. They come in a pack of six. Decorate your kitchen, office, bedroom and wherever you want to display your wine bottle collection. Extraordinary Money Back Guarantee - At DecoGlow, we believe you should enjoy our products for years to come. We build the finest quality products at great prices, so we can offer you 100% Satisfaction Guarantees. If you are unhappy for any reason, we will make it right.
Features:
THE AROMA OF WINE: Faux cork candles look like real corks and they smell like wine. A beautiful addition to your eclectic home decor - the perfect wine accessories!
FITS MOST BOTTLES: Each wax candle fits neatly in empty wine and champagne bottles. Great cake toppers for your next birthday party or family celebration.
MAKES A GREAT GIFT: For wine enthusiasts or the person in your life that has everything, these unique candles come in a set of 6 and can be used for weddings, house parties, or any of your special occasions.
ROMANTIC: Each candle gives off low light for your romantic evening. 3-inches tall and 1-inches in diameter, the candles are made from pure paraffin wax and have 100% cotton wicks for clean burning.
100% SATISFACTION GUARANTEE: We want happy customers, so if you are unsatisfied for any reason, let us know and we'll make it right!
Brand: DecoGlow
Color: Cork
Publisher: Deco Breeze
Warranty: Decoglow warrants all products to be free of manufacturer's defect.
UPC: 843730013373
EAN: 0785462798169
Package Dimensions: 6.9 x 4.7 x 1.3 inches