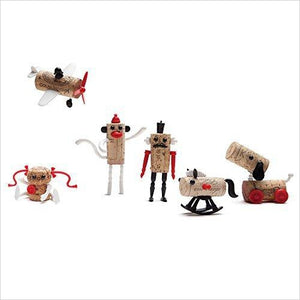 Details: Got leftover corks? Now you know what to do with them!

Monkey Business elevates your gift of wine or sparkling cider with a splash of enchanting imagination. Drape this package around the neck of the bottle and watch the smiles and joy you'll get from your delighted recipient. Monkey Business adds the "extra" to ordinary.

Enjoy recreating the classic totem for your own fancy.

Create your personal spirit of fun totem! A total of 14 parts allows dozens and dozens of variations. Mix and match, use different corks, add the parts to a model doll...you'll find all kinds of creative combinations. Children and grown-ups alike will get a giggle popping parts onto corks, creating clever little creatures and crafting projects!Whether as a party game, stocking stuffer or the start of a crafts creation, everyone will have a charming time

Exercise your guest's, your children's or your own imagination, spark plenty of conversation, create bonding times, and make memories you'll treasure. Monkey Business is your accessory to fun.

PLEASE NOTE: Small parts, choking hazard for babies and toddlers. For ages 3+.
Features:
Bring Your Corks To Life: Give your old corks a creative new purpose with these innovative, artistic sets
Animate Any Gathering: Create a convivial game and add loads of whimsical charm to your get-together, table and kitchen
Memorable and Fun Gag Gift: Bring the gift of laughter. Whether with a bottle of wine or on its own, you'll have charm to spare
Adorable Party Favor, Stocking Stuffer: These packs make an endlessly creative craft companion or treasured wedding favor
The Perfect Party Ice Breaker: Give your guests a creative, fun way to connect, spark conversation and friendships ,Made Of Plastic - Dimensions: 4.3 x 2.3 x 0.4 Inches (11 x 6 x 1 cm)
Brand: Monkey Business
Color: CircusZoo
Publisher: Monkey Business
EAN: 7290001379608
Package Dimensions: 5.0 x 4.4 x 2.8 inches