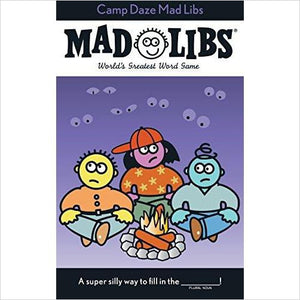 Author: Roger Price
Brand: Price Stern Sloan
Edition: Mad Libs
Features:
A family game, a strategy game, and an award-winning game all in one! Simple to learn, with endless play possibilities, Bolkus starts each player with 21 pieces of different shapes and sizes
Your job is to play all your pieces first - or be the one with the fewest squares left
Can you block your opponents and expand your territory? Our recommended age: 5 years and up Features A strategy game for the whole family 21 pieces per player, of all different shapes Board with raised edges and valleys holds pieces in place Go out or end up with the least amount of squares left to win! Includes 84 total pieces, game board and instructions
ISBN: 0843122390
Number Of Pages: 48
Publisher: Mad Libs
Release Date: 1988-02-17
Details: Complete page after page of camp theme stories by supplying the parts of speech indicated, then read the entirely silly story back and roar with laughter! Remember--prepare yourself for--the funny (and not so funny) moments at camp spent with friends and counselors. Here's your chance to retell that campfire story the way you think it should really be told.
EAN: 9780843122398