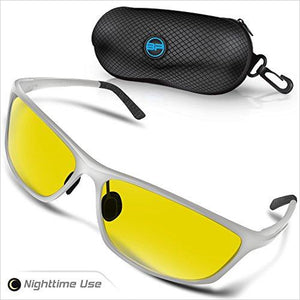 Details: Don't just buy a new pair of sunglasses, which could fail to protect your eyes or grant you the greatest level of clarity and safety.
Invest in the safest new outdoor companion, built to last you a lifetime. Safety comes from the highest level of clarity in your line of sight,
and the lightest most wearable solution to your outdoor needs. Built from the most durable materials and a stylish design you can depend on.
Rally's strength and durability are guaranteed to deliver you the ultimate outdoor experience.

HIGHEST QUALITY MATERIALS
√ Polarized 100% UV 400 anti-glare lenses protect your eyes and ensure clarity and control by transforming distorted and distracting light into a crystal clear view.
√ Lenses built from shatterproof polycarbonate
√ Durable metal aluminum-magnesium alloy frames, fully tested and built from the strongest materials, to ensure years of worry-free use.
√ Frames complete with reinforced hinges to prevent damage from drops and squishes
√ Protective coating to prevent scratches

ULTIMATE WEARABILITY
- Built with the lightest and thinnest lenses to weigh in at just 30 grams - 57% lighter than traditional sunglasses
- Intelligently designed flexible frames conform to fit any number of different facial types, ensuring that your personal pair will be the perfect fit for you.
- Complete with integrated nose pads and a rubberized support system

PACKAGE INCLUDES:
- 1x Pair of BLUPOND Rally glasses
- 1x Universal car clip holder
- 1x Glasses hard carrying case
- 1x Glasses bag
- 1x Glasses cleaning cloth

100% Satisfaction Guarantee. Try risk free. Click "add to Cart" now to claim your glasses at a Discounted Price!
Features:
Go BLACK for Daytime Use OR set your sights to YELLOW with our TAC Semi Polarized Yellow-Tinted RALLY - transforming your vision to the most balanced yellow view + blue-light polarization. Working to protect your eyes from harmful Blue Light, we aim to reduce the contrast from bright blue & white glares and flashes for a more vivid nighttime drive. Shield your eyes from digital devices and bright headlights' Blue Light emission, and from harsh environmental elements with our 100% UV400 RALLY.
Rest assured with the incredibly durable, aluminum-magnesium alloy frame construction of your new Rally's. Built to last amidst inevitable drops and dings. Intuitively designed full-frame form factor for heightened security and reliability + polycarbonate, shatterproof lenses, yellow-tinted for blue light neutralization OR blackout for maximum anti-glare polarization, does the work for you, letting you keep your eyes on the road at all times.
The optimal form factor for maximum comfort and wearability, the Rallys were designed to be worn hours on end, effortlessly and with ease. Leave the stress and headaches behind, with our ultra-thin, super-light polarized lenses, complete with integrated nose pads and our rubberized support system for added security. Weighing in at just 30 grams, you'll never want to take these babies off!
Sleek and stylish, to be worn on or off the road, our timeless, classic Italian design exudes ingenuity and innovation. A fashion statement fit for both men and women, no matter the occasion. Take your race car driving, sports, and outdoor adventuring to new heights in any of our 3 colorways: Silver or Black, with Nighttime Yellow-tinted lenses, or Black with Daytime Blackout lenses.
In addition to your new RALLY by BLUPOND, you will receive a Complementary Accessory Set, complete with our EVA protective sports case, Screwdriver for minor adjustments, Sunglasses pouch, Microfiber cleaning cloth, Glasses clip for convenient car storage, and Gift box. The total package to keep you active and ready anywhere you go.
Brand: BLUPOND
Color: Silver
Legal Disclaimer: DISCLAIMER: RALLY NIGHT DRIVING GLASSES DOES NOT GUARANTEE noticeable Glare Reduction (noticing the effect depends on individual eye anatomy) and will not cause your vision to be better at night than during the day. Extended use is required in order to notice a change, and to enjoy the benefits provided by your BLUPOND night vision glasses for driving.

NOTE: Not Designed To Be Worn Over Prescription Glasses.
Publisher: BLUPOND
UPC: 627464135200
EAN: 0627464135200
Package Dimensions: 7.0 x 3.4 x 3.1 inches