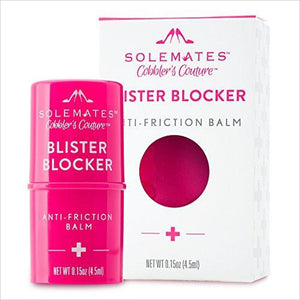 Details: Your Secret to Minimizing Friction on your Heels and Shoes The Solemates Blister Blocker provides an invisible barrier to defend your feet against excessive rubbing and blisters.
Easy to apply, with no residue left behind The non-greasy formula enables direct application to your skin, without a left-over mess that might stain your shoes or make your feet slippery.
Give your feet the best chance of success with the shoes you want to wear!

Features:
NATURAL: Natural & most effective blister prevention balm prevents friction and blocks painful blisters without using scary toxins and dangerous chemicals. Free from: Parabens, Phthalates, Silicones, Artificial Dyes, Animal Testing (Cruelty Free), PEGs, Alcohol, Dimethyl Ether, hydrocarbons, sulfates and other harmful ingredients.
LONG LASTING: This blister prevention balm creates an invisible barrier that prevents blisters and minimizes friction on the skin. It lasts up to 6 hours, but can be reapplied as needed. The balm is a natural lubricant that moisturizes and nourishes the skin.
INVISIBLE, UNSCENTED + NOT GREASY: The Blister Blocker is naturally Fragrance Free. Our blister prevention balm glides on smoothly to your skin without leaving any greasy residue on your feet or in your shoes.
SAFE + CONVENIENT: Our compact blister prevention balm tube is designed to go everywhere your feet go; you will never have to worry about blisters ever again! Unlike aerosol sprays that can be dangerous, flammable, and harmful to the environment, our solution is as safe and natural for you as it is for the environment.
DOCTOR RECOMMENDED: The Blister Blocker is hypoallergenic, gentle, and safe to use on your skin and without any scary ingredients that you can't pronounce. It has been clinically proven safe and effective, is hypoallergenic, and dermatologist-recommended.
Brand: Solemates
Color: Clear
Publisher: Solemates
UPC: 896818002301
EAN: 0896818002301
Package Dimensions: 3.1 x 1.5 x 1.1 inches